Today's run was not 100% what I had in mind, but close enough…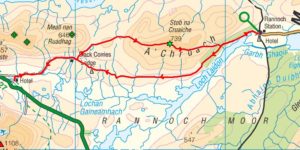 The original plan was to take the ridge of A' Chruach the whole way to Rannoch Station and return by the track/path, but I followed this tempting, runnable ATV track off the summit that took me away from the ridge but saved traversing some more peat hags!
At 24.2 miles, it interestingly turned out slightly shorter on the ground than taking the track/path both ways and didn't take much longer, perhaps because the hill wasn't really much harder than the 'telegraph pole' section of the regular route and I was properly fuelled this time. A' Chruach is a strange, sprawling mass of a Graham with its highest point Stob na Cruaiche about as un-stob-like a 'peak' as you could imagine. Having skipped the eastern extension of its ridge, I did briefly consider just doubling straight back along the Loch Laidon track to Kings House, but dismissed not continuing to Rannoch Station as 'cheating' when I'd set out with a certain mileage in mind. Strange how I somehow contrived to have the wind in my face in both directions, and (with the long, dry start to May finally coming to an end) I did also encounter something I believe to be called 'rain' on the way back, but I was happy enough with my time of just outside 5 hours when the good track at either end stops for the hill and the 'path' in the middle of respective outward and homeward legs. Also happy with c.62 trail/hill miles from four days (well, mostly evenings) actual running since Monday giving me a third day of the week 'off' tomorrow. One good thing about fewer, longer runs is getting more breaks, which I can really appreciate (even when tempted to forgo them) knowing what a year of basically running daily three-milers did to me.