Last Sunday I fell into a pile of bricks, slabs and back wall trying to do without a ladder where I needed one but lazily thought access looked tight without moving a few bits and pieces first. Which, quite apart from serving me right by leaving me with a bashed coccyx, rather messed up my running plans by ruling out Sunday (hurt too much!), Monday and Tuesday (too busy with work, but probably still hurt too much?) to start picking up the pieces again on a fine Wednesday evening. But I've still managed to 'run' every day since without hurting myself much more beyond the occasional jarring slip, so was able to make something of the further spring-like weather this weekend on a couple of circuits beyond my typical winter evening fare…
So yesterday Marie Meldrum came down from the Fort and we had a relaxed 'run' (paced for my coccyx and her MTB race today) over Glas Bheinn and Beinn na Cloiche to return by the monument and Ciaran Path, narrowly missing Karl Zeiner on Glas Bheinn but later meeting Kelly, Matthew and the boys down below the German Camp.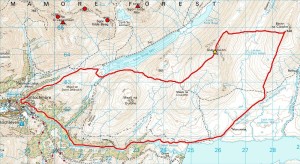 No real surprises for me from a lovely day on familiar ground except some still substantial cornices on Glas Bheinn, but how nice to see Marie (who's not run from Kinlochleven so often) enthralled by the magic of stunning views from new territory and apparently enjoying my running (no pun!) commentary on the distant hills and nearer sights too!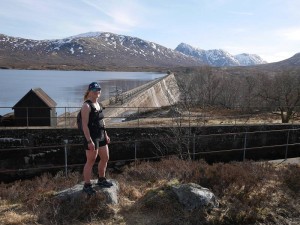 So where could I go in still somewhat injured state for a decent, but not too strenuous, follow-up today? Well, having been inspired by Marie's enthusiasm for the classic U-shaped valley of the Lairig Gartain (visible centre background of the 'Beinn na Cloiche' photo), why not head down for double U-shaped fun in a repeat of the Two Lairigs? So that's what I did, with the four 'circuit-order' summit photos (Lairig Eilde looking towards Glen Coe and Glen Etive followed by Lairig Gartain looking towards Glen Etive and Glen Coe) taken to show them close-up in the full expectation of being told I have to do it again soon…