I've got my brother Angus here at the moment to do some climbing and, in spite of having to work round some pretty uncooperative weather, we've managed to get some good stuff done.
Last Tuesday we bought him some new rock shoes because he's recovering from a nasty cut to his heel (of which more anon) and the pair he bought at Easter left no room for dressings and tape. So, after a quick trial at the Ice Factor that day, we headed for Aonach Dubh on Wednesday with thoughts of Eve's Arete and Quiver Rib, but finally did Lower Bow and Quiver Rib (a slower repeat of my July solo expedition) after finding both Eve's Arete and Rowan Tree Wall too wet to appeal as attractive routes to the Terrace.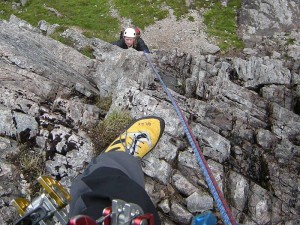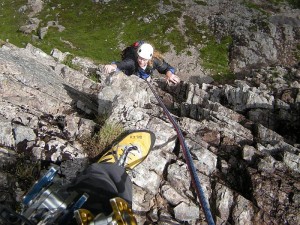 With Thursday's forecast looking much better, we planned to do Spartan Slab on the Etive Slabs, but nearly lost the chance after an unexpectedly rainy morning. However, it brightened up eventually and we thought it worth a look, so set off in the afternoon. A good call, because the main sweep of slabs was mostly dry (although the lower right-hand slabs were soaking) and we had the crag to ourselves. Have to say I found the overlap harder than I remembered from having led it twice before many years ago, and poor Angus had to finish that third pitch in a shower that had us briefly thinking we'd have to be abbing off, but the rain relented again and we were able to complete the climb with no further 'moments' beyond crossing a treacherous weep on the fifth pitch. All in all, a great day snatched from the weather (carpe diem) and a fitting route for Angus's birthday!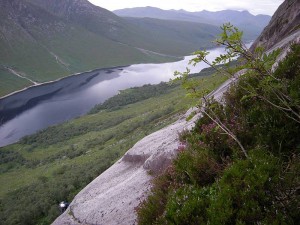 A curious Friday afternoon of sunshine and occasional showers saw us at Polldubh, where Angus led the Gutter (his first lead on rock) and my headache (maybe dehydration-induced?) and general lack of enthusiasm saw me fail to tackle anything. But Saturday was properly wet, and a planned ascent of Observatory Ridge on Ben Nevis with Rich and Jamie H turned into an almost viewless ascent of Ledge Route and traverse of the Carn Mor Dearg Arete. So that's the second time Angus has done Ledge Route (we did it together in March 2000), the second time he's summited the Ben and the second time he's seen sod all from the top. However, the saga of his troubling heel took an interesting turn for the better on Sunday morning when he pulled a 10mm sliver of glass (which had been there for three weeks and missed by two doctors) from the cut!
After a quiet Sunday at home when it rained, we got some stuff done about the house, lifted the mast down from the boat and discovered that the inside of said boat was in a terrible state, we headed for Skye early yesterday morning in the hope that the apparent agreement of several forecasts showing a good day in the North-West might actually mean something. So it was a gamble, with the Cuillin still invisible in cloud as we arrived and Sron na Ciche visibly drying before our eyes as the cloud cleared and we started up the crag, but a gamble worth taking as we had a great day on the great classic VS Shangri-la, which has been near the top of my 'hit list' for a *long* time. And I'd have to say I thought it was quite hard (although some short sections were also still quite wet) and fully agree with everyone who's said the final pitch is 'nails' for the grade (on which note I'd say go expecting steep, strenuous 5a and regard it as a bonus if you find it easier). We met just one other pair of climbers (who topped out almost simultaneously from Integrity after approaching it via Cioch West and Cioch Nose) but probably had the cliff to ourselves apart from that. And, with spectacular views to the Small Isles and Outer Isles in glowing evening sunlight as we descended south-west from Sron na Ciche to pick up the path from Coir a' Ghrunnda to Glen Brittle, it was worth all the effort of a long, long day from Kinlochleven (where it's raining again on Tuesday!).