Yesterday I took Angus to Polldubh to climb Heatwave, Flying Dutchman, Pine Wall and Secretaries' Direct in glorious spring sunshine for what amounted to a quick 'best of Polldubh Severe' tour.
Now, perhaps I'd already climbed Heatwave more often than any other route (at least seven times, including three solos), but all my previous ascents were in 1990/91 and things weren't quite how I'd remembered them. So the initial ramp felt a little harder (although I'd describe the protection as spaced rather than poor as suggested by most of the guides), I'd forgotten that it landed you directly below the Storm crack and the rightwards traverse from its top looked all wrong. Which briefly confused me into thinking I'd made a mistake, so I took a stance before the traverse, brought Angus up and we abbed off through some holly before realising (as I must have known all along) that of course it was Heatwave and went back to do it again! No problems this time with the traverse actually being much easier than it looks, so we took in the Vampire groove to spice up the second pitch before finishing up the slabs above, and will put the preceding debacle down to a combination of amnesia and first-rock-route-of-the-season-itus.
Flying Dutchman was as good as ever, with its brilliant second pitch traversing under the roof on holds that feel small for the grade, but still positive and all there where you need them most. This time we skipped the VS 'direct' finish to head straight up the ridge, which is probably actually more direct!
And so to Pine Wall, which I'd soloed onsight in 1990, repeated in 1991 and not climbed since. While it's surely overgraded (from a technical point of view) at Hard Severe, it's not that easy to grade with most of the first pitch devoid of protection and effectively soloing for the leader. Probably just Severe, but a fall would hurt! And it's still a very nice route…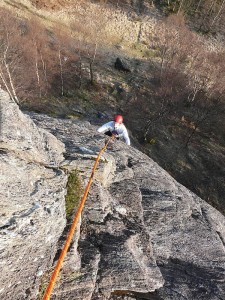 So how could you improve on a Polldubh Severe day taking in Heatwave, Flying Dutchman and Pine Wall? Simple, just nip up to Secretaries' Buttress to grab the Direct before dark. Three more enjoyable pitches on the kind of slabby ground I enjoy most (and had also soloed onsight as long ago as 1990 before repeating more than once since), and the perfect ending to a nearly perfect day.