While I'd been up Sgorr a' Choise and Fraochaidh before, I hadn't combined them into the single ridge traverse so obvious from the map, so took advantage of this year's van-service-and-MOT day to get away from the boat refit and do exactly that. And it started, after a detour to the Ballachulish Co-op to augment my meagre scrabbled-together rations, with a full-on bash up the north side of Sgorr a' Choise to leave a 'pure' traverse avoiding too much 'out and back' from the central bealach:
From Sgorr a' Choise's summit, and increasingly on the descent to the bealach and beyond, it was impossible to miss the proliferation of freshly-bulldozed forestry (?) tracks since I'd been up here before even if my photo selection's spared you the worst of the scars up Glen Creran:
It feels like a long way to Fraochaidh, but the views from both undulating ridge and summit are excellent with familiar peaks and islands to admire in every direction: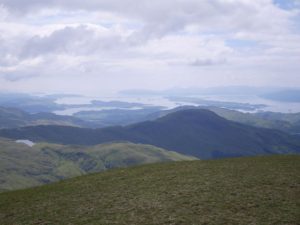 And the return by the Duror–Ballachulish through-route maintains interest with attractive late prospects of Sgorr a' Choise and the Pap of Glencoe amongst others:
It was a hot, dry day so I took two bottles of water and drank seven (!), but still suffered from the lack of ready supply on the long, central section of ridge.
Now perhaps you're wondering why I've also filed this under 'sailing', so let me explain… it's been nearly two months since I've posted a 'boat' blog, but work has continued unreported through a frenetic end to school term and the first week of my summer holiday. That long-anticipated, so-belated launch should be just a couple of weeks away, but I'm still working hard at it and just haven't felt like blogging the minutiae as well (some 'broader brush' updates to come, I promise!). But what I did find on this very welcome boat-free day was quality time to mull over how and when to deal with some of the stuff I still want to get done, and was seeing how to get some consequential jobs (e.g. finishing templating and cutting Fly's new cabin sole from the most expensive sheet of plywood I've ever bought) done right even as I walked. And you just can't over-stress the importance of the right time away to work through this in your head!