'Buffeting' is a favourite word of the MWIS forecasts, carrying a windy warning with predictable (sometimes almost daily) regularity. But yesterday's Northwest Highlands forecast didn't say 'buffeting', it said 'Southerly, marked increase with height to 50 to locally 60mph' and 'Walking conditions difficult across higher areas'. But, since it also said 'Precipitation unlikely until nearly dusk' and 'Most summits cloud free', I thought I'd just take the difficult walking conditions for an otherwise decent-looking day which (taking that 50 to 60mph as a baseline rather than peak figure?) turned out to be one of the windiest I've ever been stupid enough to spend on the hills!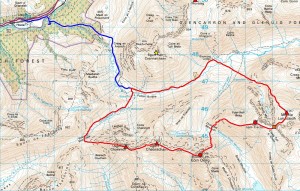 While the agenda was quite simple, cycling from Craig in Glen Carron up the Allt a' Chonais track to do Sgurr Choinnich, Sgurr a' Chaorachain and Maoile Lunndaidh, its execution was anything but as I spent much of the day struggling to brace myself against flight across scoured, icy tops while trying to take half or quarter steps forwards without being thrown away the moment I lifted one foot. So it was tortuously slow, with crampons worn from Sgurr Choinnich (as advised for the descent down the far side by the solitary pair I met coming the other way) to the Drochaid Mhuilich and absolutely essential for the gnarly descent north-east off Bidean an Eoin Deirg, stubbornly kept on (in expectation of needing them again soon) where they weren't doing any good up the western spur of Maoile Lunndaidh and finally taken off just before they'd have been useful again on top. And here I seriously considered crawling where Butterfield's 'ease of movement on the level summit' was rendered wholly irrelevant by the most ferociously sustained wind of all, but salvation was soon at hand with increasing shelter on the descent back to Gleann Fhiodhaig and I made Glenuaig Lodge in one piece with my feet still on the ground!
So a wee look into the tiny Glenuaig Shelter (a shed with a single set of bunk beds and a misspelled nameplate) and, mindful of the fading light, I was hoofing it along the track back to my bike… on which, propelled by what shadow of the southerly hoolie had made it to the sheltered glen, I sailed back up the slight incline before the headlong descent to Glen Carron. Where I arrived at 5:40pm with the rain ('Precipitation unlikely until nearly dusk') just starting to spit and drove home in a downpour!
Almost no photos from the tops because, quite apart from the wind chill, I couldn't hold the camera steady even sitting down with my elbows braced on my knees…