Standing between Glen Creran and Glen Duror and being the final hill after Beinn Maol Chaluim on my truly local 'why have I never done that?' hit-list, the fine Corbett of Fraochaidh was a much coveted summit. So what better way to spend a clear, cold November Sunday afternoon than running into it from Ballachulish and out again?
It's a good route through good hill running country, enlivened by great views of the surrounding hills (especially fine today on the return leg as the Glen Coe peaks started to glow in the late sunshine) and really feeling like it's taking you somewhere as you look down into Glen Creran, although quite an effort for a solitary Corbett at 12.4 miles and 4,400 ft round trip over an undulating ridge. Completed in 3hrs 29mins, which seems typical at the moment for a hill run of this stature in non-racing, camera-carrying mode. And the dusting of snow on the summit was nice! :-)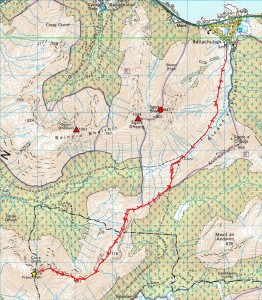 The panorama below (not perfectly stitched!) was taken on the way home, covers about 180° and shows (from left to right) Beinn a' Bheithir, Ben Nevis and the Mamores, the Glen Coe peaks (with the Pap, Aonach Eagach and Bidean group all visible), Sgor na h-Ulaidh (looking very fine from the west) and Beinn Fhionnlaidh.