Here we have the Gumotex Safari 330… ordered in June, delivered yesterday morning and taken straight out to try before Friday and Saturday's wind warnings take effect! The seat's in the 'wrong' way round with the backrest valve on the front, but I sorted that later:
So how does it feel compared to the Twist 1? Predictably both familiar and different. Takes a bit more pumping because it's a bit bigger, but still just minutes from bag to boat. The more substantial backrest seems a more integrated part of the inflated boat when it's held tightly in position by both attachment points (which double as anchors for the thigh straps) and its own bulk, and the footrest also benefits from more contact with the side tubes. The self-bailing holes targeted at use in whitewater and surf are effective and keep the water below seat level for someone of my weight when it's draining faster than it's coming over the top, but will cause a wetter ride on flat water for heavier paddlers and/or loads. Haven't really sussed out how to use the thigh straps effectively yet because they don't respond quite like the thigh braces of a rigid sit-in, but still like getting that connection to the boat. And perhaps it doesn't spin quite so quickly when you stop paddling, but these things are going to be relative when it's still quite a short boat at 3.3 metres.
While my first thought was another wee outing from the Seagulls Island lay-by, I changed my mind to head from Glencoe Boat Club to the Caolas nan Con narrows and back, thus linking with previous Twist forays between there and the River Leven and needing just the short section between Eilean Choinneich and the Ballachulish Bridge to complete my kayak coverage of the loch. I was against the remains of the tide and with the wind on the way up, then against the wind and through the turn of the tide on the way back, but just once really had to consider whether (temporarily) increasing wind might suggest turning short of Caolas nan Con. The photos are from the calmer spells when I was more prepared to stop paddling and dig out the camera:
While the main purpose of the outing was to try the Safari, I also wanted to look at my forward stroke and some of the other techniques I'd covered with Mark at Sea Kayak Oban last week. No question my basic stroke pulls from toes to hips in this boat, so who knows what happened to it in the sea kayak for Mark to pick me up on it? And, while there's still logic behind higher-angle strokes for the shorter, fatter inflatable, I am at least watching where my top hand's getting to as well as trying to keep left and right heights matched. Also set my paddle to 225cm (the longest it goes where I've mostly been using 220cm for the Twist), practised with both inline blades and a 30° feather, made good use of the stern rudder and tried the sculling draw a couple of times, but meaningful exploration of thigh strap control will have to wait for another time.
My height sits on the boundary between Gumotex's suggested positions 3 and 4 for the footrest, so I chose 4 for my leg length before moving it back to 3 for better engagement with the thigh straps. Then couldn't get into them when I tested the fit again at home later (perhaps because it's not quite the same on dry land?), so need to check that next time I'm afloat: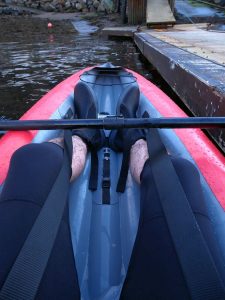 Quarter of an hour after getting back and starting to get cold standing talking to a friend who'd arrived by car as I landed, the rain came on so I retrieved my camera from the pontoon where I'd dumped it after the previous shot to take one more before a cold pack-up and partial change of clothes. While I'd stayed warm enough paddling bar slightly chilly lower legs towards the end, it just doesn't take long to start shivering in 5°C air temperature once you stop and the main culprits here were those uncovered lower legs and the fingerless gloves I'd worn for handling the camera: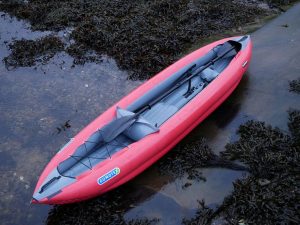 So that's the Safari I've been eagerly anticipating for months. Did I like it? Absolutely, yes! Does that mean it's perfect in every way? Well, no, but nothing ever is for me! While it's as solidly put together as you'd expect from Gumotex, I noticed after bringing it home and rinsing it off that the self-bailing holes could, shall we say, be more tidily aligned. But that's a largely aesthetic concern at least partially mollified by finding images/videos suggesting mine's not unique in this respect. I've also considered whether these drain holes being cut through the overlapped joints between lower side and bottom tubes could compromise the integrity of these tubes at all, but can only conclude not really when they've sold plenty of these boats to folk who're giving them a harder life than I will and I've never heard of a problem here. It's a good boat and perhaps the biggest problem is cold November days with strong wind warnings leaving too much time to ponder concerns that just getting out and using it should dispel!