Quite recently (a week or two back?) I suddenly found myself wondering why, in all my many, many trips to the Dam, I'd never taken the obvious through route from Altnafeadh when it's broad, characterised by gentle gradients and quite clearly the shortest approach from any road. So I decided pretty well there and then to try it out (as part of a loop taking in both Devil's Staircase and Dam) at the first reasonable opportunity, and took that chance today.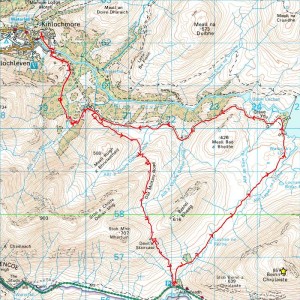 After briefly following a rough path/muddy track due north from Altnafeadh until it became obvious that it would not pass below the wooded area centred on NN 223569, I simply set off cross-country, and continued like that over terrain that was wet (so not quick) but not especially rough all the way to the Dam. After which a somewhat faster run brought me home by the familiar Penstock track, although some degree of dehydration on a warm afternoon (not helped by not drinking when I could have!) stiffened up my legs a little and effectively prevented me from cutting loose on the final descent to the village.
Overall, it's an excellent circuit and should also be good run clockwise (when you'd benefit from stunning views of both Buachailles to pull you over from the Dam to Altnafeadh, but lose the fantastically exhilarating descent from the top of the Devil's towards the big Buachaille that's one of my favourite bits of running anywhere). 15.06 miles measured by GPS in just over 2 hrs 39 mins (so 5.7 mph average), breaking down to 6.05 miles to Altnafeadh at 5.4 mph, 3.06 miles to the Dam at 4.5 mph and 5.95 miles home at 6.9 mph.
As for March as a whole, I ran 22 out of 31 days, but had just 4 days when I didn't climb or walk either, so not bad considering work and other commitments at a busy time for me, and surely in keeping with my WHW training plan 'to [simply] keep running, walking or climbing six days a week'. :-)