While it may come as a (counter-intuitive?) surprise to some that Scottish winters can be too dry to leave your precious flutes, pipes etc. simply sitting out in the open (indoors, of course!), cold northern climes aren't necessarily much safer for them than southern deserts, and preparing suitable storage conditions for my new Dave Copley keyed flute had been exercising my mind from the moment I'd ordered it in Solomon Blackwood instead of the anticipated Delrin. So, having arrived (through testing and evolution) at a solution I've been happy with for a good couple of months now, I'd been planning to write about it here before unexpectedly finding myself prompted into describing it (like last year's Whistle Rolls) on the Chiff and Fipple forums first. And this is most (but not all) of what I've written, with the full discussion accessible from any of the links:
Note, October 2014: the hygrometer now lives on top of the crate rather than inside because the crate humidity's pretty stable and it's more the room humidity telling me when to bring the flute in (which hasn't been necessary all summer) than crate humidity determining when to take it out. And the pipes can stay out a fair bit longer when they'll tolerate a good 10% lower.
Posted: 15 Mar 2013, 08:41 (re. the concept):
Sounds a bit like my plastic crate system, which I've been meaning to describe for a while but haven't got round to yet. So just have to let these photos speak for themselves right now, noting that the top (dry) layer takes the smallpipes when I don't want them in the bottom (wet) layer…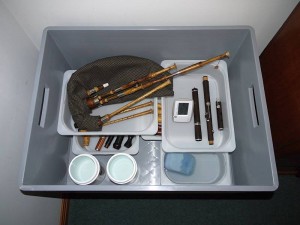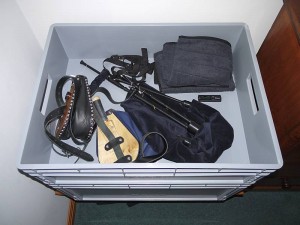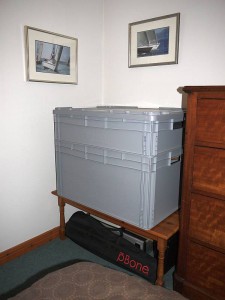 Posted: 15 Mar 2013, 18:58 (re. the crates):
These are by AUER, though I found them on (and ordered from) Solent Plastics. Not cheap at £98.16 for the two crates, lid and delivery, but exactly what I wanted (big enough at 800x600mm to take the pipes whole, and straight-sided when most/all of the alternatives tapered wastefully) when nothing else I saw was. (NB they also do smaller ones at 600x400mm and 400x300mm with a range of depths in all sizes.)
(re. achieved humidity and method):
It was pretty steady at low 50s to low 60s till we had a prolonged spell of very cold, dry weather in February, at which point I stuck in a second shallow tray of water (like the one with the sponge) to keep it there. And now the weather's been changing again, I'm typically getting 60 to 65% with the extra tray still there and happy with that. (I was getting 75% testing the concept over Christmas with much smaller crates before I got the AUER ones, but was never going to keep that set-up when it was really too 'wet' for the pipes, couldn't take the bass drone whole and would also have required multiple crates and hygrometers.)

I'm not humidifying the shallower top crate, which is there to give the pipes a break from the main 'chamber'. But I've just turned on the little hygrometer you see in there to check (the one in the main crate is on all the time) and it's saying 39% RH when I've got 60% down below, which (noting that this one always reads slightly lower than the other) suggests I'm getting about 20% benefit from the water in the big box. (One reason I rejected 'converting' a cupboard/closet was that the space proved too big to humidify easily by such simple means, whereas the other smaller crates were almost too easy!)

Regarding the actual 'humidifiers', yes, two deep tubs and a shallow tray with sponge (+ the extra similar tray still in there). Still experimenting with tubs/trays/sponges and think the sponge seems to do something, but would probably rate water surface area most important of all. These shallow trays/boxes came from IKEA (fortuitously spotted when there for something else!) and I'm still planning to get two more of the larger ones (£1.50 each) with room in the deep crate for another 'layer'.

Probably also worth pointing out that the handle slots on the crates provide useful ventilation without giving the water too much to do and the whole thing was 'designed' to be user-friendly where neither individually humidified boxes nor humidifying whole rooms really appealed to me at all. For comparison to other locations/climates, we're talking West Highlands of Scotland, there's another hygrometer in the living room currently reading 34% which has been as low as 31% in the couple of months or so I've had the whole thing going, and I'm pretty happy with it all.
Posted: 15 Mar 2013, 19:45 (re. humidity again):
While you get different recommendations from different makers, I'm working from Dave Copley's '55% to 80%', but aiming for low 60s because that seems to be suiting flutes, recorders and pipes alike where observation's maybe suggesting low 50s for these pipes alone.
Posted: 17 Mar 2013, 13:08 (re. 40% RH being 'too low'):
IMHO, yes, that's too low. While numerous woodwinds had 'survived' in my house(s) for 30+ years without targeted humidification, it's obvious now (having largely reversed a number of loose joints and some ovalling bores) that most were too dry. And the ferrule on the common stock of my new pipes came loose (surprising their maker, who built them just up the road!) after just a few weeks in my living room at c.40%.
(re. risk of mould at higher humidities):
While I'm theorising largely from my own observations here, I'd say you also have to consider ventilation and would personally think sustained moist storage in airtight boxes/bags more risky than higher humidities per se. When my new Copley flute (NB my first with lined head!) spent several weeks in a smaller (but still vented) 'test' crate at c.75% RH, it might sometimes have looked/felt just slightly 'clammy' when taken out (or was that the older recorders I'd been consciously re-humidifying in a smaller, not quite sealed box?). But nothing ever feels like that in my big vented crate even with it (as now, with a change in the weather and the extra water still in there) sometimes pushing 70% RH, and I'd never be keeping the pipes in there (leather bag, tweed cover and all) if I thought it 'wet' enough to be risking mould. So I guess what I'm suggesting is that the highest 'safe' humidity probably varies with size/ventilation of immediate environment (eg the various crates and boxes I've tried) and you can go higher with bigger, better-ventilated boxes.