Quite a departure here when most of the blog's about my own outdoor or musical activities, but here's something I made for work nearly three years ago, stopped using when upgrading from Windows XP to Windows 7 killed off webcams as full-screen, plug-and-play devices under 'My Computer', but thought worth sharing now I know how to get the full-screen output back…
It's a webcam mount for a microphone stand, made from a cut-down broken microphone clip, and intended for demonstrating keyboard fingering or guitar picking/chord shapes to my music classes on the SMARTBoard (though simple screens would work just as well for those with computer projectors but no SMARTBoard because you don't need the 'smart' interfacing for this). Hopefully obvious from the photos how to make one for a Logitech webcam at least, but the mic clip's basically flattened off with the webcam attached by a cable tie which goes round the base of the ex-clip and through a hole drilled to keep it snug to that.
When used with a boom stand, it's then easily set up to show piano keys, either hand on guitar etc. and could obviously be useful for other non-musical demos as well. It's no good with the supplied webcam software because you just can't get full-screen live output from that when the whole point's large-scale, live demonstration rather than recording, but back in service now Mark McLean found me a cheap-and-cheerful solution in VideoLAN's VLC media player, which we already had installed on every school computer. Just select your webcam as video capture device (make sure it's not your audio capture device first if you've got amplified audio output and don't want things screaming!), click 'Play' and there you are! There's a hint of time lag which might rule out a useful live Flight of the Bumble Bee, but won't cause you problems demonstrating the kind of five-finger positions, simple beginner tunes, keyboard settings/screen output, guitar shapes and picking/strumming patterns you're most likely to want on screen.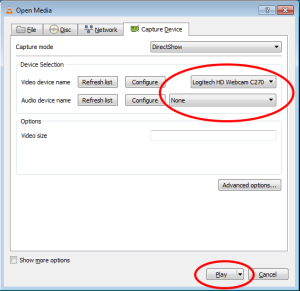 And that's it really, apart from how you get it to where you need it when most webcam cables are pitifully short and standard extensions may result in no output at the length you need. But this one works fine with a 10m NEWlink USB2.0 active repeater cable and Mark's now successfully tested the same cable with a number of different devices since we got ours, so there you go! :-)