Suddenly, after a largely lousy December for coincident good hill conditions and free time, forecasts were pointing to three or four consecutive grab-me-while-you-can days and I was off to start cleaning up the North-West…
First stop Fionn Bheinn en route to Ullapool on Saturday, followed by my final Fannichs on Sunday, a return to the 'Deargs' on Monday for the deleted Top (!) missed in 2008 and a soggy Moruisg and Sgurr nan Ceannaichean on my way home on Tuesday. Which adds up to a whacking great chunk of what I need by May when, apart from two Munros, one Top and one Deletion elsewhere, what remains uncoloured on today's map is all that's left of my 601 all-time-listed '3,000ft' tops.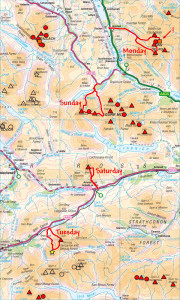 Not a huge amount to say about Fionn Bheinn here. It's a modest wee singleton, perhaps famed more as a splendid viewpoint than for itself. Conditions were crisp, cold and windy, but I was really more concerned about the condition of the roads (and getting back up from my icy parking spot by Achnasheen Station) than the hill. And the cloud came and went, alternately obscuring and revealing both summit and more distant views, with only my ultimate target of Slioch truly playing hard to get and ducking the camera as a more consistently fleeting presence.
So on to Ullapool, where (really not fancying several days' sub-zero camping or dossing in the van) I'd treated myself to the rare luxury of proper paid accommodation and booked at the Argyll Hotel. Which might have been extravagant, but made all the difference to a pleasant trip with a comfortable room and excellent food… on which note, money's only of value for what it can do for you and, yes, I'd do it again!
Having noted the bottom of the Gairloch road as still quite snowy in passing on Saturday, I was a little concerned about getting up past Braemore Junction to the start of the Loch A' Bhraoin path but, while not surprisingly finding it still much the same on a cold, cold Sunday morning, needn't have worried. And there were perhaps six or seven vehicles already parked up there, with just one truly viable space left for me. I chose to tackle my round of two Munros and a Top anticlockwise to deal with the most pathless ground first, landing on top of A' Chailleach in a whiteout soupy enough to make locating the surprisingly indistinct start of the ridge to Toman Coinich quite awkward as (with compass in one hand and GPS in the other) I'd find myself ploughing through localised drifts on the flat shoulder that disconcertingly screamed 'cornice' but weren't! But things were starting to clear by the next bealach, the couple I met heading up what I'd just come down probably had an easier time of it, and I enjoyed a nice walk down (interesting discussion about photography and winter tyres!) in and out of the cloud from Sgurr Breac with Mike Dunlop from Keith, who I met on the summit.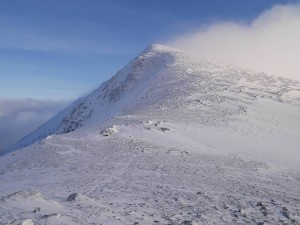 Now, the missed deleted Top of Ceann Garbh 'old position' had been bugging me ever since a memorable weekend in 2008 when I'd traversed the whole of An Teallach on the Friday afternoon/evening, the four 'Deargs' (missing the Deletion after failing to mark it on my map) and Seana Bhraigh on the Saturday and Beinn Alligin on the Sunday. But no Dearg day is wasted, a winter round of Meall nan Ceapraichean (with both versions of Ceann Garbh) and Beinn Dearg looked attractive, and I had the hills to myself after meeting a pair of climbers returning down Gleann na Squaib following their ascent of Penguin Gully and overnight camp. It was another crisp, cold morning, with the bicycle I'd brought with the glen in mind left in the van as I took the icy track on foot, but spectacular with it as turning round to catch sight of a snowy An Teallach brought an audible 'wow!' After which the clouds slowly started to roll in, with still-good views from Ceann Garbh and Meall nan Ceapraichean turning to the whitest of whiteouts on Dearg, where the massive summit cairn was still coming and going at about 10 metres distance. So another blind descent to pick up the famous wall (which was close to buried at points) and the summit never cleared again that day, but numerous chilly attempts to time a photograph with the Moon over Dearg unobscured by a sea of moving cloud were finally rewarded with the opportunistic bonus of 'Plane over Moon over Dearg'… or perhaps symbolically just 'over the moon' with a possible eagle sighting too before finally dropping back to the glen to hit the main road in near dark at 5:00pm!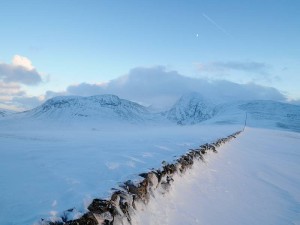 So I said something about the forecasts pointing to three or four consecutive good hill days, and that turned out to be three in the end with a big Monday-night thaw clearing the roads (good!) and largely stripping the hills of snow (more debatable?), but a still very useful, if soggy, Moruisg and Sgurr nan Ceannaichean picked up on the way home. Not that I saw either of them, although they were slowly clearing by mid-afternoon when I left, but I did find both cairns on both double-cairned peaks (where the higher in each case seems to be the smaller and less significant-looking one), which was more than the party of four who'd not unnaturally just assumed the larger of the two on Moruisg was the summit. So perhaps just a final warning to baggers… while neither the Moruisg nor Ceannaichean cairns quite match the famous false summit of Beinn Dorain in the 'imposter' league, you could still miss their barely-higher true tops in poor visibility if you didn't know!