When I wrote in my recent Ramsay's Round report that I 'could be persuaded to pace someone for part of the big one' despite having 'no intention of ever confronting Charlie Ramsay's monster in its entirety again', it was in the full knowledge that I might be assisting visiting US athlete Rhonda Claridge with her imminent attempt. And we got a good team together (coordinated by John Hepburn but also including Neil Arnott and Jon Gay) to do just that… along with some sociable preparatory runs (Mullach nan Coirean, Steall and Dun Deardail in various combinations) during which we fortuitously discovered the obliteration of half the path through the forest up onto the Mullach by current logging operations! Then, after postponing a day for forecast rain, the great adventure finally got under way on Thursday morning (12 August) with John and Neil taking Rhonda through the Mamores to meet me on top of Na Gruagaichean, me being charged with the task of delivering her from Binnein Mor to Fersit and Jon taking over there for the home leg. So what follows is really just some routing analysis (presented mainly in list form to match the numbers on the map) because the story's Rhonda's to tell, but I hope it's not too much of spoiler to say she got round (a great effort!) but missed the magic time in slipping to 25:24 in the end…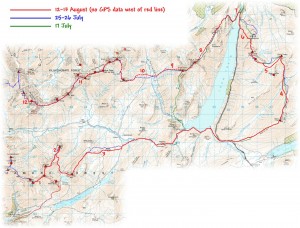 Met Rhonda, John and Neil on top of Na Gruagaichean about 10/15 mins ahead of schedule after wandering (dotted line) up from the village and back along the ridge from the south top of Binnein Mor.
John and Neil left us after Binnein Mor, but (for the first time out of four this year?) we managed to follow the right path through the scree off Binnein Beag!
Found a great line east off Sgurr Eilde Mor (where we saw a big herd of deer and I belatedly thought 'Hillphones'!) with less contouring than the one (blue track) taken by Jon and me on our round. But it's really 'go anywhere' ground here with no obvious bad choices.
Another good, clean line off Beinn na Lap and, despite the steep climb to follow, we'd stretched our advantage to over 40 mins by Chno Dearg.
Lost about 10 mins getting to Stob Coire Sgriodain in poor visibility (had the bearings and distances written on the map this time, but happy to compromise between compass and appropriate paths in the end) and also had a surreal encounter with a walker heading the other way with night closing in rapidly!
Found the best line yet off Stob Coire Sgriodain, with a short gully through the outcrops high up proving the key to a mainly grassy descent when an over-zealous attempt to avoid the rougher ground encountered on our Loch Treig Round (green track) had led Jon, Gavin and me astray to the east on our round.
Still about half an hour 'in hand' on meeting John, Neil and Jon at Fersit with me some 28 miles/7 Munros the worse for wear and Rhonda another 10 miles/6 Munros up on that. Thought things were clearing up (stars starting to come out) for Jon and Rhonda as we left them (NB red track changes to a dashed line where Jon took over my Forerunner), but some tricky conditions up to and through the Grey Corries apparently still lay in wait.
Looks like a slight straightening of the line taken by the path.
A slight diversion to the north after Jon had been discussing our route off the Easains with Bruce Poll.
As 9 above, although not quite the northwards 'loop' I thought Jon was talking about.
A better line off Stob Coire an Laoigh, apparently located by identifying a patch of red scree.
No more GPS track with the Forerunner battery running out between Stob Coire Bhealaich and Aonach Beag.
Not sure exactly what happened after that, but (with John and Neil heading up and over the Ben yesterday morning, me waiting just above the Red Burn and Rhonda and Jon just making that final summit on the 24-hour mark), we all finished together in increasingly pleasant conditions through crowds of early-bird walkers (many already on their way down), two cyclists and one unicyclist (not actually riding at the time)! And that's all I'm going to say just now when the rest is really Rhonda's story, although it would be remiss not to mention that we all enjoyed a surprise meeting (+ early lunch together at Cafe Beag) with her mother and sister before going our separate ways (thanks to Neil and Morag for driving me back to Kinloch!), and naturally hope to run together again sometime. :-)