I've got three things to talk about here, but am covering them in almost reverse chronological order…
Firstly, I'm building a sea kayak store along the side of my workshop shed. It's a current project for which the only physical work carried out so far has been marking and clearing the ground where it's going to go:
But you can see the bones of what I'm planning from my SketchUp model: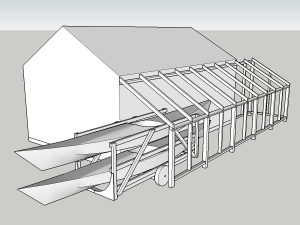 While I'd had a good Google to see what others had built, nothing I saw quite worked for me so I started from scratch in thinking through my requirements. In supporting the kayak(s) on adjustable broad webbing tapes, the trolley should provide a more user- and kayak-friendly method of doing so than fixed shelves or supports in an end-opening store. Of course there'll be roofing and cladding and a door on the end, but the concept should be clear enough from the drawing as it is. I'm currently waiting for posts, concrete and gravel to be delivered so I can start building, so will move on just now and come back to the project as it takes shape in future blogs.
So that's the 'store' of my title, and we can move on to the 'sea'. Today Amanda and I joined four others from Nevis Canoe Club on a trip out from Glenuig, which, for those who don't know, is a wee village and bay on the north coast of Moidart or south side of the Sound of Arisaig: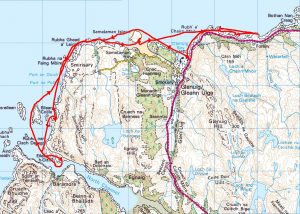 While it was a cracking 'window' in a spell of fairly inclement recent weather, being dry with a neap tide and almost negligible wind, the residual swell bouncing back off the shore still gave a new feel compared to what I've done so far. We paddled west then south, stopping for a break at the lovely little bay of Port Achadh an Aonaich inside Eilean Coille before returning via another stop at Samalaman Island and brief eastwards excursion. Since I have some scruples about depriving Amanda of her own boat again while she took Mal's, I'm so looking forward to the day I can say I took my own, but still have to say I really enjoyed the group paddle… and her boat! I'll keep this short tonight and just let the photos speak for themselves:
Time for the 'canal' now, and there's not much to say here because it's really just a footnote to this blog where I'd not have given it its own. On 21 January, I took the Safari along the Caledonian Canal from Banavie to Gairlochy. My cousin Eileen dropped me and the boat off at Banavie and she took the photos with my camera. The trip took me just under two hours, it felt comparatively carefree compared to the sea, and the hat didn't stay on much beyond the photos because I was really quite toasty in this more sheltered environment: