So what's been happening to Fly in the couple of months since my last blog?
Well, for about the first month of that, quite a lot of glassing in of the new bunk tops (basically Twig's job with me doing some of the mixing etc.) and further forecabin paint stripping (my job… ugh!). Then not much over late September and early October as we were both separately away and/or busy with other things. But things are picking up again now with a fresh bout of activity starting with further water tank developments…
What's happened in the two photos above is that, after all that effort designing a straight-sided water tank to fit and calculating volume/angles, both quotes to get it made up in polyethylene were silly expensive. So we decided just to make use of the shape of the boat and lay up a glassfibre one in place, with the first photo showing my handiwork stripping back further surfaces to bond that to and the second its front wall tacked in place by Twig. When finished, it'll all be glassed and gelcoated inside with no wood surfaces left.
The next photo below shows more rotting wood (surely the last!) discovered under external glass-work. This is a false floor in the starboard cockpit locker (viewed from port), but, unlike the rotten bow well, we can just cut it out and leave it out because it's non-structural (no port equivalent) and presumably only there as a base for the petrol can we've not carried since converting from outboard in a well to inboard diesel: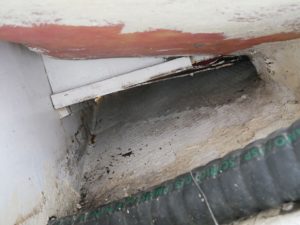 Two more photos to finish a very matter-of-fact blog, and here you see more bulkhead stuff. The first shows the companionway bulkhead facing removed to tidy up and refit properly (so yet more normally invisible glassfibre on show there) and the aft bulkhead (lit by the lights) stripped off so we can get the wood permanently protected. The dark vertical line on the starboard side (left as you look at the photo) is an original void in the original (not marine) plywood which needs repairing. The second photo shows the exposed edges of the main bulkhead facing now sealed with epoxy filler to remove moisture traps just where you don't want them:
And that's about it for tonight. Twig's going to be back doing the water tank and other glass-work and I've got yet more paint stripping to do as well as building a mini-shelter for the bow so we can get to work on the well without being totally at the mercy of Lochaber autumn precipitation. But some still distant day next year, when it's all done and I take this boat sailing again, it's going to be knowing that many developing or incipient problems unlikely to be unique to my Impala have been properly eliminated and this boat's structurally as good as (and in some ways actually better than) new! :-)