After getting my Ultimate Direction SJ Ultra Vest 2.0 in May and loving it, I was keen to add something similar but larger for the kind of hill days when I needed a greater capacity. But it seemed that it just didn't exist, with UD's own PB Adventure Vest only so much bigger and looking marginal for fit with the M/L size topping out at my required 40″ chest and the Salomon packs not appealing so much to me. But then I got wind of the new UD Fastpack 20 (due out September) with M/L size specified for 32″ to 46″ chest and a configuration that looked just right, would have taken it there and then if I could have got my hands on one, and promptly pre-ordered from Castleberg Outdoors. After which the entire UK stock appeared to get held up for a while in customs and I finally got it mid-October, but was unable/unwilling to get out and test it for a while with a spell of atrocious wet weather. So now it's had a couple of outings (the Devil's Staircase and Beinn a' Chrulaiste last weekend for Graham Kelly's final Corbett and a 20-mile bash round the Coulin Forest peaks yesterday for my Munros/Tops/Deletions quest), what do I think?
Well, it's good, very good, though I'm not yet convinced by changes to the design of the front pockets. The left pocket is OK, being basically the same as the Ultra Vest pockets, though you do feel the rigid bottles a little more in there and I'm trying the softer Body Bottles just now. But their tapered shape seems less secure in the right pocket (which has a resizing zipper rather than drawcord), with my right bottle getting launched from its pocket several times yesterday on lurching or bending forwards and a similar problem last weekend with my mobile phone escaping the gel/bar pouch there, though it seemed plenty secure enough for cereal bars yesterday. This single pouch does also seem a little stingy when the Ultra Vest has four (two on each side), and there's unutilised space above the bottle pockets that could have been given to further lidded pouches as done on all the Signature Series vests. That said, everything else is brilliant. I've used roll-tops with a single centre clip before on my GoLite packs, but find the new UD arrangement with two side clips much more effective in keeping the roll tidily secure. The vest-style harness is excellent once properly adjusted, giving me an impressively bounce-free carry with the two chest straps well-separated by sliding right up and down and the ability to maintain this for widely differing loads by shortening/lengthening these and the two lower harness straps. On which note I should point out that, like the Ultra Vest, the Fastpack fits 'smaller' as you pack it fuller; I could maybe wear the S/M size (24″ to 40″ chest) when lightly packed but guessing I'd run out of adjustment quite quickly when loading it up. The overall shape and capacity is just right, though it took the attached leaflet (or should I say card tags?) and not UD's site to tell me that the S/M and M/L achieve the same capacity by being slightly different shapes for different torso as well as chest sizes. Current (slight) criticisms of the front pockets apart, the side/back mesh pockets, secure zipped side pocket, ice axe loops, daisy chains etc. all seem excellent and the bottom line is that packs of this (vest) style, capacity and configuration don't grow on trees; if that's what you want (as I did), you've probably currently got a choice of one and you're likely to be happy with with it. As I am!
So that's the Fastpack 'review', but what of the trips I've been testing it on? Well, Graham managed to pick a surprisingly viable day (Saturday 1 November) for Beinn a' Chrulaiste, with the incessant rain only really returning for the descent and subsequent evening in the Clachaig (from whence I was kindly driven home by his sister Irene after effectively marooning myself by my morning run over to Altnafeadh to join the ascent party). But, since I haven't got a photo of the wonderful 'dram cam' (whisky bottle with attached, drinker-oriented GoPro) in action, you'll have to make do with a couple of others instead…
As for yesterday, that was just a case of taking a gift (a stunning November day after so much poor weather) and getting up early enough (5:10am) to make the most of it. So I'd considered other, shorter, objectives (eg Fionn Bheinn or Moruisg/Sgurr nan Ceannaichean) from my dwindling, North-West cluster of remaining Munros, Tops and Deletions, and kept them up my sleeve as reserves, but just had to go for the long-admired big Corbett of Fuar Tholl and potentially awkward trio of Coulin Forest Munros. Perhaps surprised to meet a fair number of folk on what I'd never thought of as particularly popular peaks, but guessing I'm the only one who did all four! For which I chose the delightfully irregular footwear of Asics Gel Enduros, which aren't the best on steep grass and moss (not that anything would have been great on all that frosted scree!) but stayed comfortable for my problem feet where I might have taken my Wave Harriers (which got left in the van along with axe and spikes) had I got them half a size larger for thicker, more 'cold weather' socks. Would also have liked to add the terrific-looking An Ruadh-stac, but it was never on the agenda with darkness and the Stromeferry Bypass cut-off in mind.
Key to annotated map as follows:
Went too high because the river looked big lower down, but it was still flowing quickly down an awkward mini gorge up here.
Nearly changed my mind about which ridge to climb.
You wouldn't want to stumble over the Mainreachan Buttress in poor visibility!
While you lose a lot of height down here, the good stalker's path makes for a better link-up than Irvine Butterfield's High Mountains suggests.
I took Hidden Gully as per Dan Bailey's Great Mountain Days in Scotland, but think its right edge (described by Iain Thow in Highland Scrambles North as North Flank, Grade 1/2) probably better when dry.
Took in Meall nan Ceapairean because I got told on the summit of Maol Chean-dearg that it's a Graham, but wasn't surprised to discover that it's not (nothing like enough re-ascent!).
My GPS track is obscuring the rather nice Coire Fionnaraich bothy.
Followed the obvious landrover track in near darkness and missed the short cut to Coulags.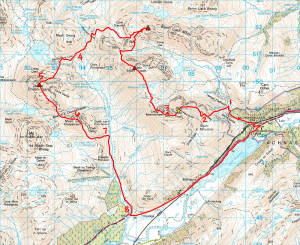 And some photos to prove it was all worth it!