While not quite the stunning November day of two weeks ago, yesterday's more wintry trip over the eastern Fannichs brought another healthy haul of four Munros and three Tops. Having done the central group of Meall a' Chrasgaidh, Sgurr nan Clach Geala and Sgurr nan Each before, finishing the ridge east of those leaves just two Munros and a Top at the western end for another day, but my seven peaks were hard won in conditions that were cold, slippy where frosty/dusted with snow and very windy (nearly got blown off Sgurr Mor!), with generally poor visibility and intermittently showery as well…
My original plan was to cycle in from Grudie to Fannich Lodge and attack from the south, but even as I got to Garve I was changing to a northerly, non-cycling plan with the extra mile or two on foot trumping a couple of seven-mile cycles with limited daylight available and Sgurr Mor earlier rather than later looking good for a deteriorating forecast. Two obvious bits of lazy nav (see map, 2 and 3) where I set off south from Sgurr Mor and east from An Coileachan (yep, I meant to head north via Meallan Buidhe by the dashed blue track!) without checking the compass, but who's never done that? Didn't take me that long to spot the mistake on An Coileachan, but it only took a quick look westwards to put me off trying to contour back round (it's all rough ground, with a return to the Bealach Ban and something like the dotted blue track apparently the more 'normal' way), after which I just kept getting forced east. And that strange little kink high on Beinn Liath Mhor Fannaich (map 1) was caused by starting to follow a path I just had to quit again when it started turning into a bypass!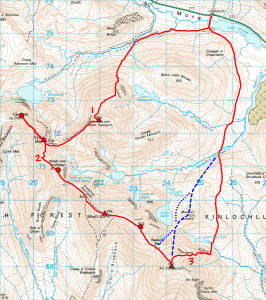 Sorry, no photos, but it just wasn't that kind of day and I was so keen to keep moving that I didn't even stop to eat till I was well off my last hill. Might add that the Fastpack 20 was great with the regular UD bottles instead of those soft body bottles I'd too hastily bought from other reviews, with their rigidity not only not affecting real-world (as opposed to living-room-test) comfort but providing much increased security in the right pocket that proved such an effective bottle launcher with the others!
Just 19 Munros, 9 Tops and 6 Deletions to go now, but who's counting? ;-)