Something I hadn't been that aware of before starting to get into kayaking is its year-round potential, but it now seems that most of my paddling friends paddle all year. Of course you've got colder air and colder water in winter, but look at sea-temperature graphs for anywhere in the British Isles and you might be surprised at when it's coldest if you don't already know; the answer is basically March, with the November sea as 'warm' as June in many places and March at the bottom of the curve between. Of course you're going to dress differently for November air temperature than June and need to be mindful of sea temperature if you're going to fall in on a nice spring day, but the kayaks don't have to get laid up with the yachts to wait for next season. (Yes, I know some folk keep their boats afloat and sail through the winter, but I don't want to!)
Knowing you can go paddling in December and finding the right day(s) are two different things, and I'd waited three weeks since my last November outing for the combination of weather and tides Friday brought to get my last unpaddled section of Loch Leven between Eilean Choinneich and the Ballachulish Bridge. When considering days and tides, my first thought had been to put in at one of the old Ballachulish ferry slips and head eastwards to Eilean Choinneich before rejecting that idea because there'd be almost no tides allowing me to head both east and west of such a start in the same trip. So I put in at the back pier (there's really nowhere closer on either side of the loch) to head west on the last of the ebb and back on the flood. The original plan was just to head through the bridge and turn at about St Bride's church, but it was such a nice day to be out that I soon found myself on a spontaneous bonus tour of Ballachulish Bay: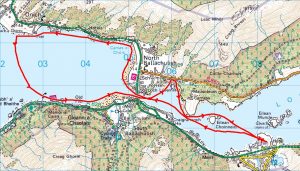 I'd have liked to go inside Currachd Liath (south shore of Ballachulish Bay) and An Dùnan (west side of Bishop's Bay) but they were both still joined to the shore! The sharp turn close to shore in Bishop's Bay is because I went round the mooring that used to be mine and on which I kept four boats over the years till I moved Fly to GBC: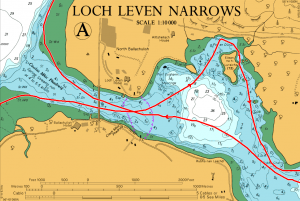 Aware that every photo showing my kayaks on the water I've taken and posted so far has been a still shot from a still boat because I've needed to stop paddling to handle the camera, I had the spur-of-the-moment and totally unprepared idea of trying to grab some videos while actually paddling. And of course I didn't get everything right (e.g. focus) with the camera balanced on a bag in the bottom of the boat, but they are what they are! This is on Ballachulish Bay heading eastwards towards the Ballachulish Bridge and Loch Leven:
And this is the back entrance/exit to Bishop's Bay:
But I also have a few of the 'normal' still shots showing the start at the back pier, view from the bay towards Beinn a' Bheithir with Sgorr a' Chaolais prominent centre and same 'back door' to Bishop's Bay as the second video: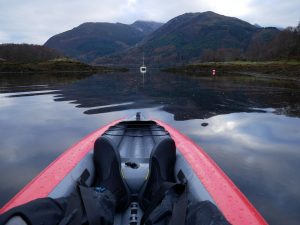 Two more things to say about the Safari before I move on to yesterday's Appin sea kayak trip: I've got the footrest working even better now by wedging between the side tubes rather than sitting down under them (which is pretty well the only way the Twist's smaller and less useful footrest will sit), and moved it back to the longest setting (position 4). But I want to talk about yesterday now…
Amanda lives about 180m up the road and Ruth lives right in between (a neat 90m from either of us). Amanda's a Sea Kayak Leader and Coach who's keen to do some sailing where I'm a lifelong sailor getting into kayaking, so Ruth suggested we could help each other. What a good idea!
So we'd discussed the same fine December conditions that saw me out on Friday and planned a sea kayaking trip for yesterday (Saturday); Amanda suggested a few possible venues and the one that just grabbed me was Appin, where I've sailed so often but hadn't yet paddled. And here's our track… what looks like crossing the road top right is just a misplaced arrow from my mapping software, and the wavy bits just north of Port Ramsay are probably me playing with edging and turns, which I was doing about there: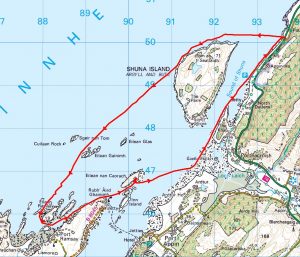 Now, I got to paddle Amanda's Cetus because we didn't think I'd get my legs and feet into Mal's (her partner's) Atlantic, but trying it afterwards suggests the fit differs from the other Northshore boats I've tried (polyethylene Atlantic and composite Voyager) and I might if we moved the pegs, but it's nothing like as comfortable! Having taken Fly to Port Ramsay on her late season mini cruise just a couple of months ago, I hadn't expected to be back this year, but here we are. And Amanda fancies my new Peak UK jacket because it matches her Cetus perfectly!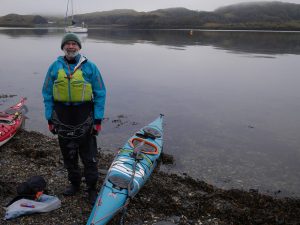 As well as enjoying the nice day's journey in Amanda's lovely boat, I was able to benefit from her experienced coaching eye in making significant improvements to my forward stroke. And, while I'd already looked at this with Mark at Sea Kayak Oban and we're aware of further refinements still to be made after working so hard at it, I think we're both agreed it's now more even, efficient and (dare I say it?) elegant. Whether I have to continue adjusting for my broader inflatables is another matter, but I'm hoping to keep as much as possible to my 'sea kayak' stroke so that's what gets ingrained. One interesting factor here is paddle length; my current Lomo paddle adjusts from 215 to 225cm but I'm obviously wanting something a little shorter for sea kayaks. We swapped between Amanda's two good paddles (cranked Werner Shuna 215cm and cranked Werner Cypress 205cm) and she thought the shorter one actually suited me better. This might surprise some given my 180cm height, but remember I've got long legs and correspondingly shorter body for that. The two paddles I've tried at SKO were a cranked 210cm and straight 215cm, so perhaps 210cm might be my sweet spot for sea kayaking, but it's something I'm keen to get right when it has such a tangible effect on stroke and style.
To get back to the photos (for which that last paragraph was necessary preamble), my wee trip from Eilean Ramsay to the buoy and back was supposed to be for Amanda to video my stroke, but something happened to her videos from my camera and the stills we're left with are significantly better. There's also no GPS track for this bit because I'd put my stuff ashore, and I don't lounge back like that last pic when paddling!
Just before stopping at Eilean Ramsay, we'd met a group of four kayakers from the Oban club we'd seen ahead of us off the north end of Shuna and were enjoying a similar outing, but didn't see them again after this. We stopped again for lunch on Eilean nan Caorach, where Amanda sensibly started eating her lunch while I wandered round taking photos of the old lime kilns etc.:
And that's most of what there is to tell when we enjoyed a nice paddle back to our starting point but I have no more photos. While it was never sunny like the forecast we'd planned on a few days ago suggested, it was very pleasant out and we discovered when we got back that the morning's frost in Kinlochleven had never thawed! So just such a satisfying day overall for the combination of development and a proper journey. :-)