Had things turned out differently, this post might have been titled 'Andy Cole was right'! And perhaps he deserved to be for his typically 'Andy Cole' analysis of my 2011 West Highland Way Race report:
Well done again Pete, and a super report. You're far too young to feel that this race has had its best out of you yet. My prediction is that you'll think again eventually and we'll see you back on the start line in around 2014….
But anyone who's seen the 2014 results will know that my attempt to live up to his long-buried, but quietly haunting, prediction fell somewhat short of the mark with a 'comeback' performance that's left me pondering whether this race had indeed already 'had its best out of me'.
So it started well enough with a typically steady mid-field run to Balmaha and somewhat swifter progression to Rowardennan as I began to get moving in the manner that's worked for me on three previous occasions. But then it all just went horribly wrong as I was horribly sick (for the first time in any ultra) not long after Rowardennan and struggled forlornly through to Inversnaid with churning thoughts of withdrawal and knowing that I needed at least a good sit-down break to get sorted. So I sat in the Trossachs Search and Rescue van for some 20 minutes, phoning Eileen and Noel (who turned out to be parked up just across the Loch at Inveruglas) to let them know what was going on, then declining an offer to take me out by boat in favour of proceeding to Beinglas. Where I took a much bigger (40-to-50-minute?) lie-on-the-ground break before dribbling on to Auchtertyre with definite thoughts of packing it in, attracting a mini-lecture/pep talk from Richie Cunningham on the way in about how he'd never regretted anything more than the year he scratched at Auchtertyre, then yet another >= 20-minute break when I'd never sat down once between Milngavie and Fort William in 2011! But you just can't take a decision of such finality passively and, despite the looming enormity of what still lay between me and a fourth finish from four starts, perhaps the 'helpfully' insinuating voices in my head were already at it with 'it's only three miles to Tyndrum, then you're really starting to get somewhere at Bridge of Orchy and you'll not pull out if you get to Glencoe'…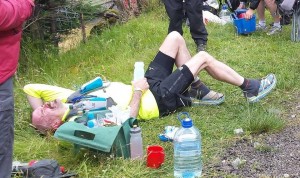 [Photo by Ian Anderson]
So that was that and, strangely enough, the engine that had hitherto been failing me started to show signs of life. Not driving consistently, but responding quickly to fuel whenever I could get it down. And I was starting to move at last, with inter-checkpoint splits progressively tumbling from a desperate worst of 143rd (Beinglas to Auchertyre) to more respectable 26th (Glencoe to Kinlochleven) before stabilising with a final 32nd through the Lairigmor and finishing time of 22:49:09. Which, despite being my worst by over half an hour, a good two hours slower than my best and more like three over my target, has to be a 'good' result in a totally unexpected way.
So what went wrong in the first half? To be honest, I just don't know. It's pretty well par for the course to find myself intermittently nauseous and perhaps more consistently struggling to take on the fuel I really need as I get deeper into an ultra, but I've never been sick like that before. But I'm not the only one who was sick, and others kept themselves going in far better style for far better times. So perhaps I was more sick than them or perhaps I'm just a big woos and simply didn't try hard enough when I finished absolutely full of running, but guess the answer to that conundrum is lost with the end of the race! What I do know is that I was tired enough after c.32 hours (?) almost continuously awake to find myself literally asleep on my feet at one point approaching Bridge of Orchy, and (while such sleep deprivation is pretty normal when I've always had to work before travelling on the 'race' Friday) perhaps that had something to do with it? Whatever, I've never had such problems balancing hydration with food and especially the hydration required to enable eating at all when even things I'd normally regard as 'moist' just kept sticking to my mouth in a cycle of recurring dryness. But huge thanks to Noel and Eileen for seeing me through it all and getting me there!
And so to my second 'big Saturday', with a long-standing promise to see Marie Meldrum over the final run of the Celtman! Extreme Scottish Triathlon if 'still standing after the West Highland Way'. And, whatever problems I'd had on the race, I was not only undeniably still standing but apparently making my quickest recovery (perhaps not so surprising from my slowest time!) and quite fit enough for a marathon-length trail and mountain 'recovery' run the following weekend…
So I was waiting with Donnie (Meldrum) for Marie to finish that monster 202km bike ride (and she's quite the smiling wee monster on a bike!) at the Achnashellach transition area, where she arrived as first lady with an unknown but hopefully decent lead. But she quickly appeared in some distress on the long incline up to the Coulin Pass, with tight calves, swollen feet and pins and needles in apparently over-tight shoes leading to the somewhat risky decision to remove her socks, after which she ran for nearly six hours without! But it's such a lovely run through to Glen Torridon once you're over the top that we were soon making steady 9-minute miles with one largely downhill 7:38 that I thought getting just a little on the fast side for what was yet to come.
Now, thinking I was doing a good job looking after Marie, I was somewhat taken aback to find myself castigated by a zealous marshal (one of the organisers?) at the pre-mountain Torridon checkpoint for not automatically emptying/repacking her rucksack for him ('poor', or was it 'bad', support running, he said!) while she was intercepted by the TV crew. So we all got a little narked by that, but I've double-checked the Race Manual since, can't see anything specifically delegating her kit check to me and guess we just have to put it down to unfortunate timing when we hadn't expected her to be doing interviews instead of presenting her bag for inspection!
One steep ascent of Coire an Laoigh later and you're onto the ridge between Spidean Coire nan Clach and Ruadh-stac Mor, where a couple of chilly showers in an otherwise stunning day saw Marie back in arm warmers and me donning hat and gloves for a while. And, with no chasing girls in sight as we returned (Marie's hand bleeding from a wee stumble) from the out-and-back to Ruadh-stac Mor, I was truly starting to believe it was her day. But she clearly still needed much convincing, with her manically gabbled and quite palpably untrue 'I love running' mantra bringing disbelieving looks and queries from others not as 'tuned in' as me! So down the horrid scree gully and through the boulder field to Loch Coire Mhic Fhearchair and you start thinking you're home, but it's still a helluva long way round the mountain, down to the road and along the road to the finish. Prolonged 'first lady' cheering from Zoe Newsam's all-girl marshal team at the Coire Dubh Mor path junction and Marie's energised into a big pace increase, but further on she's seeing 'girls' chasing her in every guy (and we'd have to admit a few did get past) catching her up! So I had to bully her mercilessly along the road, by which time I was hurting too with the previous Saturday's 95 miles starting to take their toll, but we got there still running with Marie ('I'm not a runner') having pretty well held onto a massive post-bike lead despite that slightly sticky Coulin Pass by completing the crucial 'mountain' part of the run quickest of all the girls to finish 33 minutes ahead of her nearest female competitor.
And that's that, really. It's a huge win in a major event for Marie, I'm quite enjoying basking in the reflected glory, hugely touched by some of the things she's written and said about it all… and we're talking about next year's Norseman (with a possible recce to this year's), for which she's won a guaranteed place! :-)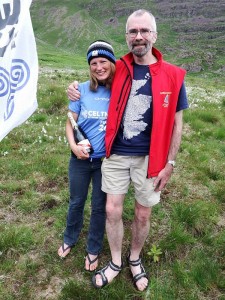 [Photo by Donnie Meldrum]