For two months since Fly's emotional relaunch I've been desperate to go sailing yet hardly used her. Why?
It's simple usability. While so many positive changes made during the refit promise so much for the future, I'm still stuck short-crewed or singlehanded with a boat intended to be raced by six and hampered for now by two crucial factors:
Sitting on an exposed pontoon with a tight approach while I wait to get my own swinging mooring relaid.
Struggling with slippery racing sails that really need crew to hoist and stow.
So let's look at the problems here and see what's happening to solve them…
While the pontoon berth was initially welcome for its walk-on access with tools etc., it was only intended as a short-term substitute for the mooring. But sourcing suitable ground tackle to relay the mooring has taken much longer than expected with what I was initially promised for mid-August only becoming available now in late September. So it looks like I'm on the pontoon for the short time left of this 'season', though I still hope to get the mooring laid soon in readiness for next spring. Might add that observation suggests more significant fouling (weed/slime?) to the bottom of the boat in two months' pontoon berthing than I recall from a season's swinging to a mooring, so guessing that's due to some combination of static berth, static boat and water conditions.
As for the sails, the main problems have been remote hoisting of headsails (i.e. with no-one at the pre-feeder) and stowing the main after use. I managed one night's successful singlehanded racing with main and No.3, then tore the No.3 through a pre-feeder jam when I tried to repeat the trick the following week! I also needed help to fully stow the mainsail since I can only get it all flaked down on the boom myself in flat calm conditions, and even then only with time, temporary ties and false starts. So the sails just won't do for current purposes and I'm splashing out again (hence 'the money pit of usability') when I've probably already spent more on the refit than the boat's worth (to anyone else)…
While a new furling genoa to fit the new furling gear was always on the agenda for next year, a new main wasn't. But usability demands both because there's otherwise no point to having got this far with a boat I want to sail but am currently finding (almost) unusable. Since my racing No.1, No.3 and kites are all in good order (despite the recent minor and now repaired tear to the No.3), my previous wish list might have prioritised full hoist No.2 and new racing main, with the current Pentex main relegated to cruising/backup in preference to the two much older Dacron mains that came with the boat. But that's just not a practical plan for short-handed sailing, so I've now discussed and ordered tri-radial cruise laminate furling genoa, main and stackpack. The sails were the most expensive of four options (the others being cross-cut Dacron or Vectran), but some mixture of shape-retention logic and vanity still compels me to go tri-radial even after abandoning racing laminates this time round; while my plans for the next couple of years are centred on fast cruising, passage making and longer trips, I still have at least some club racing in mind and know what I like! The furling genoa will probably replace the dedicated racing headsails for typical club races as well as covering the gap between No.1 and No.3 when they're used, and the new main (with luff slides and stackpack) should be not only more practical for cruising and short-handed outings but probably also as fast or faster than a Pentex main that's already done the most work of my first-choice inventory.
So that's it; the sails and stackpack are ordered and deposit paid despite a sobering total cost I'm not going to state here. While I do question the justification for such continued copious expense when I still have yet more needs/wants in mind (e.g. upgraded anchor gear, new lifejackets, flares etc.), the choice here was ultimately between a boat I can use and one I can't. For sure I didn't need to choose the most expensive sailcloth and construction options, but I was never going for the cheapest and the difference between each successive specification quoted wasn't really so very much. You might reasonably ask (re. usability) if Fly's still the most suitable boat for me, but that's not even up for debate! She might be designed for racing, but is also just a delightful, thoroughbred, seaworthy, true sailing boat with good accommodation for her size and weight. And, since I've had her for nearly 21 years and already been through the protracted pain and expense of a refit that's cost more than any complete Impala I've seen for sale recently, the only excuse for either having got this far or spending yet more I'll never get back has to be knowing she's my 'forever' boat and the main beneficiary is me. I might question the (financial) cost of it all, but fear the (life) cost of not doing it more!
Time to lighten up with some photos of the new washboards: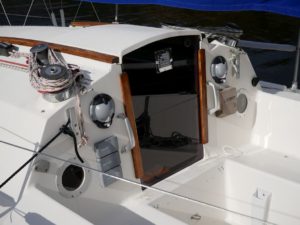 These are tinted acrylic from QD Plastics in Dumbarton, and so much smarter than the old disintegrating plywood. Because they're also thinner and their angled common edges sit over-overlapped (if you see what I mean) in slots that were already over-wide, I had to wedge them in place with some cord behind the teak rails to get tidy photos. Easily sorted by fitting spacers to the backs of the rails for next year, but not right now. So does the refit ever end? Probably not, but another year's another time after the 'interruption' of this year's launch and perhaps it's time to replace the 'Fly refit interim index' with a final version!