So I managed to go over a Glen Coe Munro and still meet no-one… on a Saturday! Then repeat the experience (if spotting a few walkers at distances beyond practical communication is still admissible?) on Beinn a' Bheithir on the Sunday, bringing my run of 'lonely' days to ten. So perhaps it's all in the timing? Or the routes? Who knows, but you'd have thought the combination of Munros, Glen Coe and the weekend meant sure-fire 'company' when it's all been Corbetts and Grahams since my last on-hill encounters on the Mamores on 11 August…
So where do you go to avoid folk in or near Glen Coe? Apparently up Sron na Lairig, Stob Coire Sgreamhach and Beinn Fhada, or over Sgorr a' Chaolais, Sgorr Dhonuill (which is where I came closest to human contact) and Creag Ghorm. And why? Because there are still (believe it or not!) local Corbett and Graham Tops to do as well as classic scrambles (like Sron na Lairig) I'd somehow not got round to for all these years, even if Saturday's visit to that northern top of Beinn Fhada seems to be telling me I had at least done that particular top before!
While Sron na Lairig is better known as a fine winter route and turned out to be more straightforward than expected in summer, I thought it still a pleasant outing at about Grade 2 and doubt that anyone comfortable with the Aonach Eagach would be at all phased by it as a rock scramble. And, while I've always got time for the Lairig Eilde (pass of the hinds) as one of my favourite runs, it was given particular 'character' on this occasion by the constant roaring of the stags from an atmospherically misty Beinn Fhada and Buachaille Etive Beag!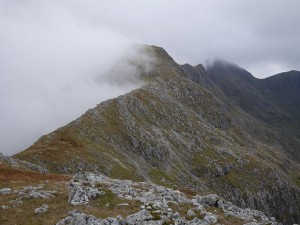 Now Creag Ghorm had been annoying me since this Graham Top essentially forming the west 'wing' of Beinn a' Bheithir was just about the last thing you can see from the road round here I'd never been up and you can't just pretend it's not there as the obvious backdrop to every unavoidable lochside drive west. So I chose to traverse that west wing yesterday knowing I'd be looking at it yet again through different eyes on the way to work this morning, and naturally had to start via the kenspeckle spur of Sgorr a' Chaolais (please, please, please not 'The Dragon's Tooth'!) as a nifty wee scramble I'd not repeated for a good 20 years. And my first impression of an entertaining 'junior Aonach Eagach' still seems apt, with just the one properly awkward downclimb (currently adorned by an abseil sling surely left for a winter traverse?) to negotiate the southern face of its prominent, rounded central pinnacle. Then over Sgorr Dhonuill and lovely running down to the Corbett Top with diversion to look into the top of Eas nam Meirleach, but Creag Ghorm really makes you work from there with convoluted twists, turns, ups and downs. Not to mention a descent that's more awkward than it looks, with what I took for a clear break through the forest turning into a burn steeper and more slippy than I was prepared to descend and sending me stooping/crawling through 100 metres of scratchily dense growth to escape to a better line when locating the obvious northward 'V' of track retrospectively looks the best option there. But, hey, you can take off your top on the track to shake out all the itchy wee bits and it was still a good day!