Sgurr Ghiubhsachain or Streap? Two much-anticipated local(ish) peaks standing proudly south-west and north-east of Glenfinnan, so which to do first?
In the event Streap won as much because I'd spied a logical round taking in Braigh nan Uamhachan across Glen Dubh Lighe and all their tops with no doglegs whereas I might have to think what to include with Sgurr Ghiubhsachain! Which is why I headed west yesterday (on a day when the rest of the world seemed to be descending on Glen Coe for the new race) looking for two Corbetts, five Corbett Tops, two Graham Tops and a partridge in a pear tree…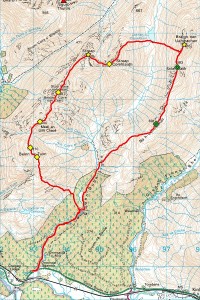 So what can I tell you about this little jaunt? While I met one party of three preparing to set off and picked up a dropped A4 map (which I later speculatively left under a wiper on the only other car I saw after failing to find its owner) on the track, for the third walk in a row I saw no-one on the hill. To walk the track up Glen Dubh Lighe, you have to pass through (or climb over!) the tightest kissing gate I've ever seen. It would be just about worth taking a bike for the first couple of miles, but I never thought of it. Beinn an Tuim is well worth doing (with splendid views back to Loch Shiel and the Glenfinnan Viaduct) and really not as off-puttingly rough and rocky as WalkHighlands suggest. It's great walking along the ridge from Beinn an Tuim to Streap on rough, but not awkward, ground, but I was a tad underwhelmed by the summit of Streap itself. It looked great, but somehow just didn't quite deliver in being tamer and less airy than the descriptions I'd been reading! Also more, well, grassy… I'd kind of expect more rock on a proper knife-edge (which that much-lauded south-west ridge is not), so quite likely more satisfying under snow and ice? The camera got put away approaching Streap as wet cloud and rain began to compromise the middle part of the day, then never got taken out again as I saw nothing I particularly wanted to photograph once it started to brighten up (by which time I was descending Na h-Uamhachan with the higher tops still mostly obscured). And there's a neat wee bothy about 300m above the bridge where my return track rejoins my outbound one… quite the 'shiniest' I've seen with immaculate gloss varnish on the bed platform and wood panelling, and two shelves of books to read in all!
Sgurr Ghiubhsachain (the obvious peak to the left of the first photo) and Sgurr Dhomhnuill (the prominent conical peak — and Ardgour's highest — further left in the other 'Loch Shiel' shot) now very much on the imminent agenda, but not today…