While everyone else seems to be on their umpteenth routes of an 'endless' Scottish winter season, my ascent yesterday of Red Gully (III) on Sgor na h-Ulaidh with Jamie B and Jay was quite incredibly my first of the year! And it's a very good route (classic, even) that would surely see more traffic if transported from Glen Coe's most retiring Munro (with three-hour walk-in) to one of the more visible/accessible crags.
Have to start, however, by telling you about the 'unpacked' packed jacket I was so sure I'd forgotten that we wasted 25 minutes heading home for it without even stopping to check my rucksack before discovering that I had it all the time (so doubt I'll ever hear the last of that)!
Anyway, Red Gully proved to be a neglected gem, taking a well-defined and aesthetic line for 200m+ to finish within metres of the top ('a true summit couloir', as Jamie put it) and providing three decent ice pitches (of which Jamie led the first two and I led the third) before a top half (which would be close to two ropelengths if you belayed where the ice ends) on steep snow. It was a good stiff III, with the ice pitches harder than they looked, the easier top section still relatively serious through lack of gear, and belays in general requiring imagination to arrange (eg mine was an equalised cam — in an isolated mini 'island' — and buried axe, which even Jamie, with his nose for gear, agreed was as good as I was going to get).
As for that unpacked/packed jacket, I'd been told that I had to wear it once we'd picked it up, but happily regarded myself as released from that obligation by knowing we'd made a totally unnecessary diversion to get it, so didn't!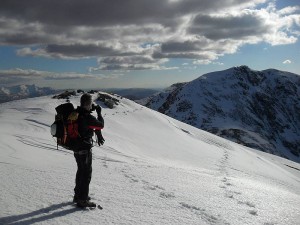 (Thanks to Jay for the photos of me.)