So what's the difference between a cairn and a pile of stones and how long does it take to find out? I've blogged about these before but, despite having passed below Meall a' Bhainne with school DofE groups (when I've not been free to head off my own way) since, it's taken me over a year to slot in the lengthy run necessary to go back and check…
To keep you in suspense for a little longer, however, I'd like to talk about the monument to Alexander Heriot Mackonochie, which you pass heading NE from the Blackwater Reservoir to Loch Chiarain. Turns out he's quite a well-known figure with his own Wikipedia entry and a McGonagall poem on his demise (found dead at that very spot, guarded by his dogs, miles from anywhere long before the building of the Blackwater Dam) and, having read the inscriptions on the monument before, I'd thought a couple of photos should be sufficient to note them down when I got home. But that's reckoning without the lichenous state of the stone and, even after enlarging and enhancing the photos in every way I could think of, I was struggling to get some of it before (post edited here 19 July) going back to check.
Side facing the Allt an Inbhir:
THEREV (There's a dash above the V)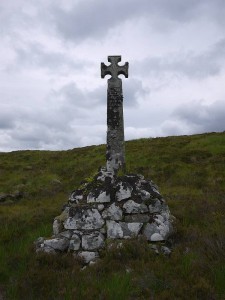 ALEXAN (And another above the N)
HERIOT
MACKON
OCHIE
FIRST
VICAR
oFSAINT
ALBANS
HoLBoRN
LONDON
DIED
HERE
INTHE

Opposite side:
FAITH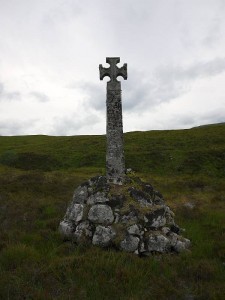 oFJESVS
CHRIST
ANDIN
hOPEoF
AJOYFVL
RESVRR
ECTION
ONThE
XVDEC·
MDCCCL
XXXVII
HISBoDY
RESTSAT
WoKING
InSVRRY.
R·I·P.

And so to those piles of stones, having been lured into running 20.9 miles today by a combination of my own curiosity and Murdo's questions:
Those Piles of Stones are not shown on the 1:50,000 map. Does this mean that they are fairly small Piles of Stones, so do not feature on the smaller scale map? I think a full explanation is called for (not on Facebook, preferably ;-)) once you have checked them out, Pete.
The simple truth is that they're pretty tiny and basically all cairns (two flatly embryonic and two of more elegant build). Who put them there and why they're all lined up, I've no idea and, as for why they're marked like that on the 1:25,000 map, my best guess is someone at the OS having a laugh… but perhaps we can all sleep easier now we know! ;-)
Note that the photos take you along the line from SE to NW and you can see the one true 'cairn' (photos 4, 5 and 6) uphill/right of the equally cairn-like NW 'pile of stones' (photos 7 and 8) in the final shot.