Let's start at the end and finish with the beginning today…
I've wanted to take Fly up Loch Etive for years, had the perfect combination of neap tides and fine conditions, but hadn't considered the temporary platform:
http://www.whamassoc.org.uk/news/connel-bridge-reduced-clearance-ongoing
Connel Bridge reduced clearance ongoing

This work has been delayed by Covid 19 restrictions. There is no clear end date for the work.

BEAR Scotland have installed a temporary platform under Connel Bridge at the mouth of Loch Etive.

The Charted Clearance of 14 metres is reduced to 13 metres for the duration of the works. The installation began in November 2019.

Mariners are advised to navigate with caution in this area until the platform is removed.

Any vessel with a height above sea level greater than 10 metres intending to pass under the bridge during the work must contact the BEAR Scotland Major Bridges Manager on (44)07845 220 531 in sufficient time to warn BEAR Scotland personnel working under the bridge of the imminent arrival of said vessel.

Connel Bridge location is at 56º 27' 21" N 05º 23' 29" W.
So should that have been the stopper I made it? Perhaps not but, after calculating everything carefully to arrive at a reasonable margin of comfort then discovering this reduced clearance the night before I planned to go through, I simply had to work with the information I had. Some sources give Connel Bridge as 50ft above the water and I have older charts and pilot books saying 15m, either of which would be plenty at any state of the tide when I've calculated (but not actually measured) Fly's air draft to be in the region of 13.5m. But 14m at MHWS (which I already knew about) is getting tighter and 13m tighter still with my expected 1.5m or so of clearance for this morning's neap tide suddenly reduced to a not-so-comfortable 0.5m. So, after ascertaining through binoculars that the platform remained in place, I regretfully turned and, with nowhere else in the vicinity I currently wanted to visit, headed home. I still feel like I'm in the wrong place tonight when I really, really wanted to go, had what should otherwise have been the perfect opportunity, but lacked 100% conviction that it was safe for me to proceed. On which note I must measure my actual air draft, which will be close to what I've calculated but I'd feel happier knowing exactly even if I'm never going to push it to the limit when predicted tide heights etc. are no more guaranteed than the wave heights that might come with them!
Edit (the next day): found a Facebook post by Alba Sailing with letter and drawing from BEAR Scotland indicating that I could still have gone through easily with the platform there. Not currently finding this text and drawing anywhere else (e.g. MS-00009356, where it's not among the listed documents), but the normal '14m advertised chart headroom' seems pretty cautious when it also gives the platform height as '15.65m above Mean High Water Springs (MHWS)'!
Now back to the beginning…
Keen to keep using the boat with a prolonged spell of fine early autumn conditions, I thought to follow my September cruise in company with a three- or four-night trip incorporating Loch Etive, but chose to head for Loch Spelve on Mull first with an almost-dawn target for the Connel Bridge tide becoming just that tad more attractively timed along with yet smaller tides for the following couple of days. And, after a windless motor out into Ballachulish Bay before enjoying a very pleasant sail down Loch Linnhe, I suddenly found myself overpressed and scrambling to shorten sail with the boat luffing up and the whole rig shaking as a properly stiff breeze blew up between Loch a' Choire and Glensanda. No messing here as I went straight for the second reef in the main before shaking it out as the wind pretended to drop then dousing the main altogether and continuing under just reefed genoa when I realised I'd been had! I've got a wee video clip of the double reef here:
So perhaps I wasn't expecting that strength of wind but, once adjusted for it, did at least get a fast and controlled sail all the way down to the mouth of Loch Spelve, where I started the engine for the combination of battery charging and upwind snaking through the lengthy entrance channel towards the north-west corner some three miles inside. And here I was surprised to find Martin and Philippa on Warisha just a week after I parted from them at Lochaline, now cruising together with Stuart and Sue on Esseness (who invited me aboard when I rowed over) and Simon and Debbie on Aspyrian: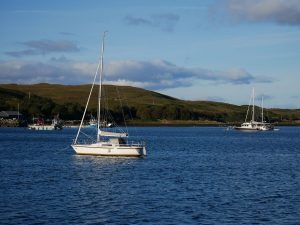 To set myself up for the morning entrance to Loch Etive, I wanted to be anchored somewhere quite close to Connel Bridge and chose Camas Nathais north-west of Dunstaffnage which offered a clean bottom in shallow water with reasonable shelter in the conditions. And I had a great sail over, getting there really too quickly for a comparatively short hop and perhaps regretting not bringing one of the inflatable kayaks with all afternoon to kill there: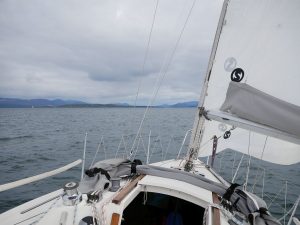 While I had Camas Nathais mostly to myself, it was shared over lunchtime with a party who arrived in two RIBs and overnight with a Dehler of some description (older style, bigger than the 34s I know), which came in at dusk and circled just outside me before anchoring further from the head but closer to the west shore, perhaps thinking to lessen the slight swell that found its way in without ever really bothering me: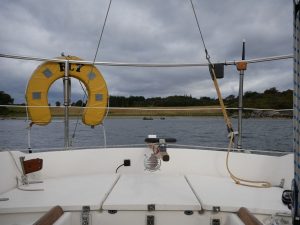 So here I was with good phone reception and plenty of time, idly searching for any further info on Connel Bridge clearance when I found the notice of the temporary platform. And you know the rest!