Been out on the hills this past couple of days, with yet another run on my 'home ground' of the central Mamores (surely my most trodden hills with the possible exceptions of the Ben and the Buachaille) followed by something new today.
Now, perhaps I'd have liked to go somewhere new yesterday, but I'd rather missed the boat in terms of travelling time by the time a grey morning started to give way to a clearing afternoon. So I headed back up the great zigzag of Coire na Ba to run over Stob Coire a' Chairn and the Garbhanach/Gearanach ridge. Which comes in at round about 10.2 miles and 4,400 ft in just over 3 hours, which doesn't sound that fast (and isn't) but does allow for something of a slowdown over the light scrambling of the northern ridge and some photography on the way back as the mist started to lift.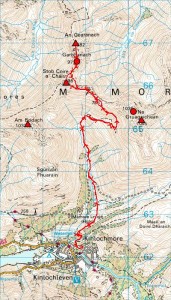 With some splendid October sunshine today, I was keen to grab something new. But, being on holiday and surfacing typically late, not too far away. So I headed down towards Tyndrum (skipping the tight parking place near the private road to Auch Farm in favour of better parking and a slightly longer run in along the West Highland Way) with Beinn Mhanach in mind. Which, as the nearest Munro I hadn't done, I'd been half thinking of saving (along with its subsidiary top of Beinn a' Chuirn) for a relatively local and accessible final Munro/Top combination (so I'd like to get my final Top en route to my final Munro!), but was ultimately quite happy just to sweep up today because I'm not really quite at the stage of choosing my final peaks yet. Anyway, it's a dashed long way in and out (c.5 miles each way on tracks you could do easily by bike), the distant views were superb and my legs were tiring on the way back because I'm probably not really quite strong enough for several days' proper hill running on the trot right now. 14.3 miles and 3,700 ft in 3 hrs 24 mins, including a pretty slow trudge up the SW side of Beinn a' Chuirn and a number of camera stops.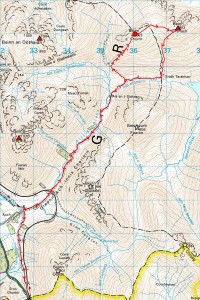 Might just add that the Auch Estate (in keeping with the current trend) have a most helpful notice about seasonal deer stalking activity, requesting the use of established hill paths, following prominent mountain ridges, following main watercourses when descending open hillsides and avoiding descents through corries, and marred only by the complete fading of their recommended/preferred routes from the accompanying map.