Yes, it rhymes (almost), or at the very least qualifies as assonance as defined in Educating Rita…
So this could have been a cheery blog post about seven Munros (five of which were new to me) snatched from a cold and windy November day on my first proper hill run since September's rib injury, but now it'll have to be a cheery blog post about six Munros (four of which were new to me) and one ever-so-nearly-Munro (the culprit being Meall Greigh) snatched from a cold and windy November day and all the rest of it!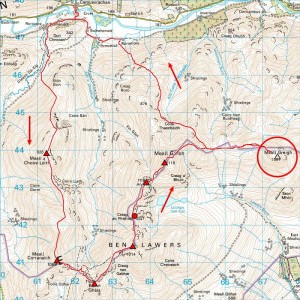 Now, you might suppose that Irvine Butterfield knew what he was talking about when he described Meall Ghaordaidh as 'quite the dullest hill in the Southern Highlands', but Meall Greigh (being a very dull hill requiring a four-mile detour from a logical circuit of the Ben Lawers range) is possibly even duller. Especially when you miss the top and now have to go back for this hill-of-the-kind-you-swear-you'll-only-do-once another time!
So what happened? Well, nothing that struck me as wrong at the time… it was very cold and windy and I couldn't see more than a few metres, but the ground was dropping beyond the 'summit' and the altimeter said 1003 where the map said 1001 so I turned and legged it back to Glen Lyon. Then I got home, thought I'd remind myself what Butterfield and the SMC Munros guide had to say about these hills and discovered that Meall Greigh has two summit pimples separated by 200m of flat ground, with the single ring contour denoting the NW imposter neatly hidden by the 'a' of the hill name on the 1:50,000 map (silly, that). Knew instantly because of the way they described it that I'd goofed, so wasn't at all surprised when importing my Forerunner track to Memory-Map confirmed the bad news and just ever so slightly took the shine off a satisfying round!