Two days (Thursday and Saturday), two runs I'd rate among the finest of their type anywhere, four famous Lairigs (Eilde, Gartain, Ghru, an Laoigh) and three fairly ordinary runners…
With Saturday's run weighing in at nearly four times the length of Thursday's, this post could just as easily have been titled 'Little and Large Lairigs'. But there's nothing 'little' about my favourite Glen Coe 'Two Lairigs' run repeated on a bright and breezy Thursday evening as a prelude to Saturday's meatier Cairngorms circuit apart from its relatively modest length of about 8.5 miles. It's big on quality and big on scenery, but the Cairngorms Lairig Ghru/Lairig an Laoigh circuit at the thick side of 32 miles through higher hills is just, well, bigger!
So I was going to do the Cairngorms circuit anyway but thought some company might be nice, asked if anyone wanted to come, and Donna MacDonald and Keith Mabbott both jumped right in! So I picked up Donna on my way through the Fort yesterday morning, we met Keith at the Rothiemurchus trailhead, and off we went. And you might just get some idea of scale from the very first photo if you can spot Keith and Donna on the trail into the Lairig Ghru with Lurcher's Crag towering up above…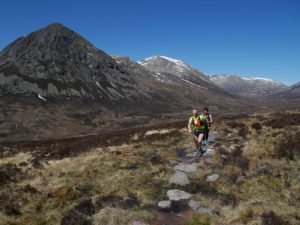 Now the Lairig Ghru was quite busy and we met numerous parties including a couple of quite big ones traversing the pass from south to north (i.e. coming towards us). Including the one in the sixth photo above, where we found ourselves talking (small world in big scenery?) to the wife of the second Vet 50 in last weekend's Highland Fling race! But then after the drama of the big, rough Lairig Ghru comes a change that's as dramatic in its own way as you turn eastwards through (well, initially towards) Glen Luibeg to the softer landscape of Derry Lodge and Glen Derry. And here, in a country of beautiful old Scots pines, flatter 'floors', sparkling water courses and good tracks, we started to meet the mountain bikers (sometimes clearly as initial access to a walk higher up) as well as more walkers.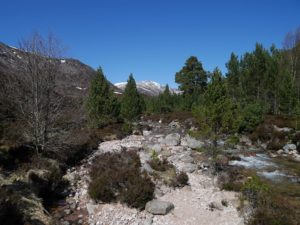 If turning the first 'corner' eastwards out of the Lairig Ghru is an important moment in the psychology of the whole route, turning the second northwards at Derry Lodge not so very long afterwards is doubly so when you're talking approximately half-distance and heading towards your starting point (albeit still many miles distant) for the first time rather than further away. Not that I was 'counting' when I was enjoying myself so much and prefer (so long as it remains enjoyable) just to keep living for the moment on a run like this, but I'm sure it was a help to Donna trying to pace herself carefully on the unknown quantity of her first ultra-distance run. And what can you say about Glen Derry except 'wow!', when the third photo below in particular just brings home the continued change in character from the first 'corner' and emphasises the otherworldliness of this flat-floored glen where you find it. (You can see the pass of the Lairig an Laoigh where we're heading directly above Keith and Donna to the right of Beinn Mheadhoin and left of the trees.)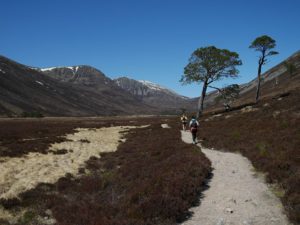 Still a long way to go, however, so I broke out the jelly babies to help fuel the team up to the Lairig an Laoigh, where we saw a helicopter apparently on exercise but were otherwise alone (just the three of us) for a few miles till we started meeting folk again on the penultimate major 'corner' round Bynack More.
So then you start to feel like you're getting there as you come round Bynack More and down towards the Ryvoan Pass, but you've still a quarter-distance (equating to a whole Glen Coe Lairigs run) to go. But it's very runnable and, while taking the uphills on the steady side, Donna had Keith and me working hard enough to reel her in downhill whenever we stopped to take photos or whatever!
And you have to finish in style, so Donna wanted a finishing tape and I (poised with camera) just yelled 'right to the van, Donna!'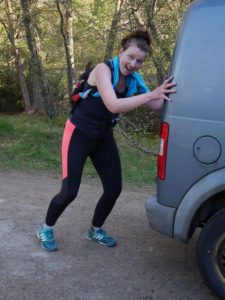 Now here (out of the main sequence of my photos) are a few pics I've 'borrowed' from Keith to prove that I was actually there and not just a solitary apparition at the Fords of Avon! You might wonder at the constant long sleeves, hat and gloves on such a warm day, so I just have to tell you I was thinking sun protection with the sleeves, the hat likewise stayed on mainly to protect the top of my head and I almost always run in gloves even when short-sleeved and hatless because my hands tend to run cold (sometimes debilitatingly so) at any time. So perhaps I look overdressed in the photos, but never felt particularly so…
So (while most of this post has been about the Cairngorms circuit) how do the 'little' and 'large' Two Lairigs compare? Well, they're both classics of their kind, which is to say among the very best mid-level, through-hill, trail runs you could imagine. The 'little' one (Glen Coe) works for me as a midweek evening run whereas the other (Cairngorms) is a major expedition which even more capable candidates than us might be pushing to complete as a casual evening outing. Much as I love the shorter one, the more 'epic' scale of the longer probably ultimately gives it that extra something. The best run of its type and distance on the planet? So many great places I've never been but, on a day like we had, quite possibly… on which note I'm certainly deeply satisfied and know Donna's 'still buzzing'! :-)