I'm 'supposed' to be trading my sailing know-how for Amanda's in kayaking and we'd hoped to go sailing yesterday…
Amanda lives about 180m up the road and Ruth lives right in between (a neat 90m from either of us). Amanda's a Sea Kayak Leader and Coach who's keen to do some sailing where I'm a lifelong sailor getting into kayaking, so Ruth suggested we could help each other. What a good idea!
But a forecast short of wind said 'kayak', Amanda suggested the single-day circumnavigation of Lismore we both wanted to do, so that's what we did. And, needing to cover the length of the island by a midday low tide, we were afloat by 8:35am having arrived at Port Appin still only just in time to grab the last obvious parking space! We'd still been discussing which way round to go on the drive down, but settled on anticlockwise to cover the more exposed Lynn of Morvern first when we'd be more sheltered from an expected slight strengthening of potentially adverse breeze (F2–3 NW'ly?) paddling back up the Lynn of Lorn in the afternoon. While we also had to weigh up the possibility of now missing the last of the ebb through the inside passage at Eilean Musdile (Lismore Light) when the flood would be with us there on the clockwise circuit, we thought we could cope with that so headed pretty well point-to-point to get there ASAP before following the coast more closely back up: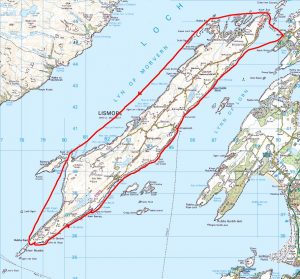 In the event we had nothing to worry about with an apparently effortless, almost dream-like passage down to Eilean Musdile taking just over three hours and the channel being child's play when we got there after a short stop to portage the narrow neck (An Doirlinn) between Bernera and Lismore. Now of course you can have enough water to paddle this, but perhaps not at the state of tide you're likely to find on a round-Lismore kayak trip where you're aiming to hit the southern tip of the island at low water, and it might not take any longer just to paddle round Bernera, but we'd planned to go this way so portage we did!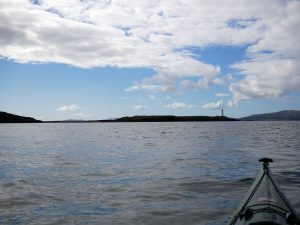 Time to relax after hitting our one and only major target on time, so we stopped for an early lunch at the lovely little bay of Port an Rubha at the southern tip of Lismore before I took my boat for a quick play so Amanda could take photos with my camera:
And then we were on our way back north-east, happy with our decision to save this more sheltered option for the return and making another stop at the ferry terminal of Achnacroish after I'd also popped into a wee bay called Miller's Port to sort an annoying loose flask rolling about under the hatch behind my cockpit: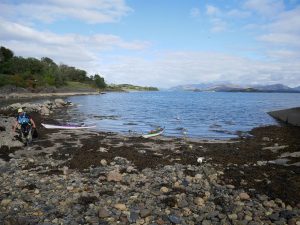 For those interested in a similar day trip, I recorded 18.9 nautical miles (21.7 statute miles or 34.9 km) over the ground in a little over seven hours including stops and that brief play at Port an Rubha. We'd planned assuming about eight hours, but everything (tide, conditions etc.) just came together perfectly, with probably about six hours of actual relatively relaxed paddling and typical, mostly slightly tide-assisted, speeds of 3.5 to 4 knots over the ground. If the second half of this speed profile suggests a slight drop in pace where we didn't feel one, this is perhaps simply due to following the coast tightly where we'd made more obvious use of the tide on our straighter morning line, but the top peak still comes as we crossed the tide back to Port Appin at the end:

All in all, a grand day out taking a logical and aesthetic route in perfect conditions, with plenty of interesting but unphotographed wildlife (porpoises, seals, many herons, geese, more) to further add to the charm!
So could we cap a great weekend by squeezing in a sail today before strong winds forecast for the next couple of days started to really blow up this afternoon? We sure could and it was fun (check the smiles!), if still plenty windy enough to give Amanda's second sail on Fly a quite different vibe to her first in conditions more like yesterday's a few weeks ago. The ideal for teaching and learning is probably somewhere in between, but this is what we had: