Last time I did the Inaccessible Pinnacle of Sgurr Dearg (with Noel Williams in October 2007) it was wet, windy and absolutely hairy enough to remain temporarily unmoved by the charms of its topping 'Bolster Stone' where my feet were never going to follow my hands on the day. But, despite guessing a significant proportion of satisfied recent 'Munroists' to have stood (or even sat?) no higher than the top of the pinnacle 'proper', I just couldn't head for Slioch on 30 May without first topping this highest point left since the lightning strike of Spring 2007. So it was back with Noel again today in conditions as perfect as 2007's were unpleasant to make good that niggling omission in cathartic style by soloing the long side to top of both Pinn and Bolster before abbing off the short side. And, with dry rock and calm air enhanced by splendid views (not quite captured by our photos) from Harris to Ben Nevis and quite probably beyond, you just couldn't get it better… as good, for sure, but no way better!
Photos by Noel and me, with me wearing the white helmet, Noel the red, and the two showing just the Pinn by me…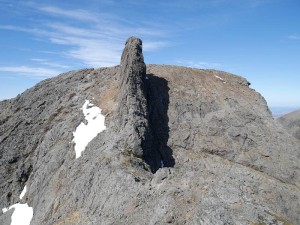 But followers of this blog may also realise that I had one other strange little Cuillin omission to sort before Slioch in the shape of the minor Munro Top of Sgurr a' Fionn Choire, so what of that?
Well, on Thursday (three days ago) I took another wee solo trip to Skye to deal with that, with a pleasant run in and out from Sligachan followed by clagged-in (even snowing gently!), slightly greasy ascent of Bruach na Frithe's north-west ridge and snowy path along the main ridge to Sgurr a' Fionn Choire finally clearing to a nice late afternoon on a rompingly good descent. So no ascent/ridge photos to show, but some from the way down…