Trying just to knock up a quick (?) weekend report to accompany some photos here, so afraid what you see is what you get…
Spent yesterday on Sgor na h-Ulaidh because it's local (but one of the very few local hills I'd only done once before) and I was struggling to get myself up to head off any further after running two hours a night from Tuesday to Friday! So settled for the short drive, took the scenic route via Aonach Dubh a' Ghlinne and Stob an Fhuarain and thought the clouds from the temperature inversion stretching away down to Mull prettier than the ones that kept blowing in to blot out the sun. No snow low down but some good, crisp stuff on the ridge, an awkward, icy descent down steep, broken ground to finish and thoughts of returning for Red Gully (III) sometime when the lower pitches are looking a bit fatter.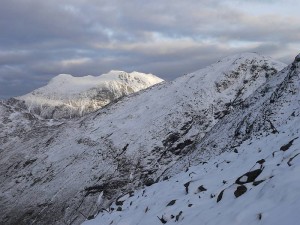 Now, today's visit to Creag Meagaidh might only have been my fourth, but they've all been quite productive with the first (many, many years ago) giving me my first taste of technical ice climbing, the third bringing my first Grade V (The Wand) and every Munro and Top of the massif bagged between the second and fourth. But it's such a fabulous venue (with Coire Ardair boasting some of the mightiest cliffs in the country, an atmosphere all its own and a comparatively easy walk in) that four is still way too few and I found myself musing today that I might be falling in love with the place! So today's trip took me to the summit by Raeburn's Gully (chosen to get close to the harder gully lines of Smith's and Ritchie's as well as being a fine Grade 1 trip to the plateau in its own right), then round the south-western tops of An Cearcallach, Meall Coire Choille-rais, Puist Coire Ardair, Creag Mhor and Sron a' Choire (requiring some proper whiteout navigation at times, on which note I've yet to find myself on that plateau when I could see!). And I'm guessing Raeburn's was in as good, safe shape as it gets, having already deposited much of its former self as avalanche debris below and the remaining snow so nice (with great, kicked steps leading most of the way up) that my axe and crampons seemed largely precautionary until presented with a slightly icier top-out. Saw some activity on the way with a team clearing snow from the first pitch of Smith's and noted that the entry pitch to Ritchie's looks just as steep (at good value for IV?) as all the photos I've seen, but the most spectacular sights were probably the cracked-ice mosaic on the lochan below and the huge, impressive umbrella/canopy of thick, blue ice on the gully's west wall above Ritchie's. 'Twas a proper pea-souper on top of Meagaidh, with some welcome visibility returning as I made my way back from An Cearcallach to take the sting out of traversing the Coire Choille-rais rim (massive cornices on the south-west side!) but the veil never lifting from the reigning peak (which seems to attract it like glue).
Took the GPS to record my track and double-check any really gnarly completed nav. legs to be sure I was starting the next from where I thought I'd got to, but nearly forgot to switch it on (see map, 1) and know it got confused in my rucksack pocket when it lost signal coming up Raeburn's (map, 2).