Let's get mushy for a moment… I bashed my head and fractured a metacarpal in my hand, but supported Alicia Hudelson's Ramsay Round with my (undamaged) heart! I could have been doing a longer, flatter trail run than the 23 miles I contributed to the cause, but it's what I wanted to do and I'm proud to have helped her achieve that cherished goal and become no.100 on Charlie's list.
Alicia had set off from Glen Nevis on the classic anticlockwise round at 5:45am on Friday (surely the hottest day of the year so far!) and been supported by various people including Tim Ripper, who'd joined her from the Loch Treig Dam to the end. I'd walked seven miles up the Lairig Leacach on Friday evening to meet them as they descended Stob Coire Easain two peaks later, but (after hanging around for a bit and scanning the hillside carefully) heard them long before I saw them! And then we were off up the Grey Corries Stob Ban together as evening started to turn to night, still with satisfying distant views (e.g. to the obvious Ben Lawers and shapely An Stuc)…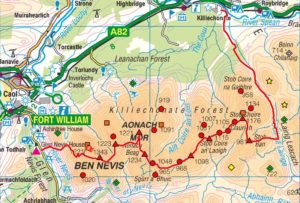 From Stob Choire Claurigh at 11:09pm to the Carn Mor Dearg arête at c.3:40am we ran by torchlight and it was a superb night for hill running… clear, dry and not at all cold despite being intermittently quite breezy. I had Dave MacLeod's GoPro to try and capture a few clips for a film he was making of the round, and hope the three (?) I got are usable and suitable! We'd debated whether to take the gully or scrambly route direct to Stob Coire Bhealaich for the ascent of Aonach Beag, but settled for the gully as the percentage option with it still being quite dark when we got there. Visible torchlight on Aonach Mor, Carn Mor Dearg and Ben Nevis turned out to be a lone camper, Jim Stalker + friend (sorry I didn't see who it was) and Dave (who we knew to be waiting on the Ben) respectively. Jim had been with Alicia on the Mamores and brought her one of his special gels (which she'd liked then) to offer her a late boost when she clearly wasn't so enthused by all her food that we had. Dave had the drone flying by the time we'd crossed the arête and were ascending the Ben, and followed us up with it before chasing us across the plateau on foot. And then, shortly after reassuring Alicia she couldn't miss with 75 minutes left on the clock at the summit, a minor spanner got thrown in the works by my rare fall with even rarer consequences (marked by the flag on the map above)…
We'd come to a small snow patch, which Alicia took her poles to cross, Tim followed behind and I quite unnecessarily decided to outflank to the right. And it was just coming back round the bottom of that that something (stones?) moved under my feet, sending me into a nasty wee downhill tumble which finished with me striking my head off a rock after apparently trying to break the fall with my hands. So Alicia stopped running but Tim called for her to carry on and, after checking that I wasn't dead (we both agreed that, not being dizzy or queasy, the quickest way to get me off the hill was just to keep running), set off after her. I picked myself up and followed, but from that moment was always lagging slightly to finish probably a couple of minutes behind them. Which was fine because we had visual contact till the very last stretch and I knew the first thing Tim would do if I didn't appear pretty close behind them would be to come back for me. So they finished at (I guess) 5:31am to give Alicia a 23:46, and Claire MacLeod was there filming along with Beth (Tim's wife) and Jim as I followed them in. And it's Beth I have to thank for mopping up most of the blood and the (pre-mop!) photo before taking me to the Belford and then to Corriechoille to retrieve my van.
Now the Belford A&E seemed unnaturally quiet with me having to ring the bell, no-one waiting and me getting taken straight in, and it was only once I was asked to return at 10:00am to get my left hand (also hurt in the fall) X-rayed and told that was still three and a half hours away that the reason dawned because (having been out all night) it felt like about lunchtime to me! So the head cut got cleaned up further and glued together, I was fed some painkillers and given some instructions about the next 24 hours, then managed a couple of hours kip in the van before returning to the Fort for X-ray. And here comes the inconvenient but simultaneously funny part, because I had indeed fractured a metacarpal in my hand. But those who know my four-fingered left hand might see where this is leading because I have two metacarpals for one 'ring' finger and the third metacarpal (fractured) is naturally splinted by the fourth (belonging to the same finger) so they didn't have to do anything else to secure it! I'm just kicking myself for not asking if I could get a copy of the flat-view X-ray (showing both the unusual structure of my hand and a nice diagonal line for a proper, but not displaced or rotated, fracture) and still hope to find out if this is possible. It's still an injury of considerable nuisance value even without the strapping, cast or whatever I'd have needed without my funny hand and I'm going to have to be careful of it for weeks, but the bottom line is that it shouldn't stop me doing several things that remain very important to me and others.
And that's just about it for now. Tim, Beth, Alicia and I met in the Fort for lunch, and were joined afterwards by Helen Rennard, who'd also been part of the team. There were others involved who I never even saw, but all vital to Alicia's successful achievement of her goal. But no denying it was both fun and hugely satisfying for Tim and me (as the two previous Ramsay's Round finishers in the team) to guide her home! Also good to hear that Jonny Muir became finisher no.101 in fine style later the same day. :-)