Think I've been working alone weekends and evenings for four weeks now while Twig's been busy with other things but, while some outstanding tasks still require both of us and/or his expertise, this also means I've had the run of the boat to get other stuff done without us getting in each other's way. And, since I'm now both on Easter holiday with plans for a concentrated push and expecting him here tomorrow, tonight seems a good time to sum up my remaining recent solo work…
To start with refitting the galley pole, this was mocked up with scrap plywood to establish trimming lengths, angles etc. to get everything as tidy as possible, meaning not quite perfect (so what is?) but where it wants to go and as good as it gets without moving the existing immovable top socket! The two lines just about visible on the top piece of plywood in the second photo are measuring the supposed slope of the top cut, with another line in the fourth photo marking the height of the bulkhead hole. It was necessary to trim the top to get the holes through pole and bulkhead to line up properly, hence the thin packing piece at the bottom which has since been replaced by a purpose-made socket block: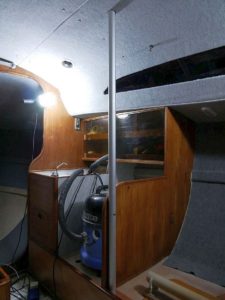 And here's said block (right) along with another (left) I made for the chart table table leg with some further pics of the finally fitted pole. So the block's epoxied in and will need chiselling apart if I ever need the pole out again, but I'm OK with that because it's both secure and destroyable if absolutely necessary, and the deckhead lining panel can be dropped down the pole without removing anything:
Another completed epoxy job you can't see here except in passing (last two photos above) because I've not specifically photographed it was stripping and coating the backs of the bunk fiddles, which had been on my to-do list for a long time but finally got done because it had to be prior to affixing these new blocks. But I've not glued the socket for the chart table leg yet because we've still to fit the correct spacers either side of the table before I can mark its precise fore-and-aft position.
Most of what I've still got to show here is trim, trim and more trim, with tidying up of lining carpet rough edges and/or securing of loose ones taking much Evo-Stik, acetone (mainly for cleaning fingers to avoid transferring more glue than absolutely necessary to the wrong places!) and patience to accomplish. What you see is by no means perfect but, with few second chances to position or adjust anything, I'm happy enough with it overall:
Finally (for now!), here's a single not-so-helpfully-lit photo of the washboard rails cleaned and treated with umpteen coats of Deks Olje D.1, but think I still got umpteen more on (or rather in?) the next day after finding it still 'active' (i.e. wet-on-wet). The hatch rails have also been cleaned (pending repair of one) for oiling along with the tiller and (still to make) helmsman's footrests and mainsheet traveller support blocks, but these are all I've got finished so far: