Six blogless months since the world I knew was shattered by the sudden death of my mother and three more since my last blog before that, a tangible sense of loss finally compels me to write here again. But this isn't about losing my sprightly and seemingly-immortal 85-year-old mother when I'm not sure I'll ever want to write about that, but rather about my good friend John Kynaston, who was much closer to my own age at just 61…
Now, when I say 'my good friend', you have to understand that John had many good friends because that's just how he was. He met and cared about people through multiple roles like family man, missionary, pastor, teacher, active schools coordinator and runner. And it's this last I feel most qualified to talk about because running's how we met and the main thing we shared over the years since we found our way into ultra racing almost together 14 years ago.
So when did I first become aware of John? Sometime late 2006 or early 2007 as we trained for the 2007 West Highland Way Race, which was his second ultra after the Fling that spring and my first when race rules still permitted such a thing. I took the train from Fort William to Bridge of Orchy early one May Saturday morning to run back with John and others as the second day of his planned two-day 'back-to-back' (he'd have months of training scheduled in meticulous detail where I'd have just the overall shape in mind to fill as I went), and joined him again for his June Milngavie–Balmaha night run, as I also did in 2010 and 2011. We were well matched and clearly aiming for similar times although John had been a quicker runner than I'll ever be years before I belatedly became a regular runner at 40. Now he thought 'Peter is a strong runner who I knew should finish ahead of me' (from his 2007 WHW Race report), and indeed I did, although it took me till Lundavra to catch him off my purposely steady start and I really didn't know if I could despite having cheekily answered his question 'where?' with 'somewhere between Balmaha and Fort William!'
Since my 2007 West Highland Way Race was originally planned as a one-off and I withdrew my next (2009) entry about seven weeks before the race through a mixture of injury niggles and preoccupation with pursuing Mountain Training qualifications, the next time we actually raced each other was the 2010 Cateran, where we spent some time running together as featured in John's wonderful video I still just have to watch every time someone links to it! Then we raced each other once more over the West Highland Way that year as well as twice again in 2011 at the Fling and West Highland Way, where we lined up for the 1:00am start with matching Nathan bottle belts: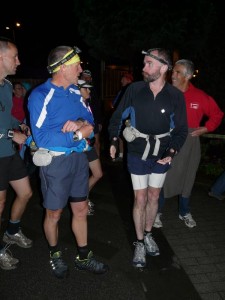 While we both ran other ultras (John far more than me), we shared a particular fondness for the West Highland Way, which was indeed the only one I did more than once and in which I accumulated four finishes to his six. But, as John raced more and more and I raced less and less, we came together in this race just once more to record two unheard-of DNFs in 2017!
So what of our other contact when we weren't actually racing or supporting races? While my yacht Fly was laid up ashore for years (for my entire ultra racing career!) pending refit, John consistently expressed interest in sailing with me and it was ultimately another year ashore for the 2020 lockdown after a successful relaunch in 2019 that cost him his chance. And for that I will always be sorry! I was happy to see him and Katrina make the trip from Paisley to Kinlochleven for my 50th in 2013, happy to be the subject of one of his famous podcast interviews in 2016, and happy to meet from time to time for further social events and runs.
A year after former West Highland Way Race organiser Dario Melaragni left us so suddenly in 2009, I took my anniversary dram to the top of the Devil's Staircase, and it's poignant to be reminded now that John has the first comment on that 2010 blog (remember blog comments?) with 'a fitting tribute'. Whether this 2021 blog is a fitting tribute to John is not for me to say, but he meant more things to more people than any of us can capture alone and there are many more tributes up already for the rounded picture. He had more lasting impact on the Scottish and northern English ultra scene than anyone I can think of as well as many friends from other walks of life. His loss to those who knew or followed him is immeasurable, and to Katrina, the girls and their young families, his mother, sister and others close to him more immeasurable yet. He was unique, and all I can do to wrap this up for now is post my photos from my #milesforjohn (requested of us all by his family to coincide with their private memorial) on 17 January. So here I am for John at Tigh-na-sleubhaich at the start of the Lairig Mòr on the West Highland Way just four miles from my door, and here's the marker post on the way home because I thought he'd like that too. Tried to smile for him as well (at least in the second photo), but was just too cold and wet to compete with that beaming Kynaston smile even if I could! :-)