Some more doing (and even a little undoing!) since last weekend…
I got another coat of varnish on the companionway bulkhead facing on Wednesday evening, then started the forecabin woodwork undercoating while Twig worked on the galley on Friday afternoon (NB Highland high schools now finish Friday lunchtime). Finished that first coat of paint Saturday morning, then some stripping/sanding to the engine box, sanding to the bulkhead facing and varnishing of both thinking that was the final coat to the facing. But I didn't like the finish at all (think the thickness of the varnish has been encouraging me to keep working it too long when 'wet' in pursuit of a nice, even spread), so spent part of Sunday undoing much of Saturday's work ready to try again with thinned varnish and quicker brushwork.
More good doing on Sunday, however, with Twig's new partial bulkhead getting fitted to the port side. We could have refitted the old one but, with peeling unnecessary Formica on one face, peeling varnish on the other and redundant cutouts for switch panels etc. we're changing, a nice, new replacement looked the way to go: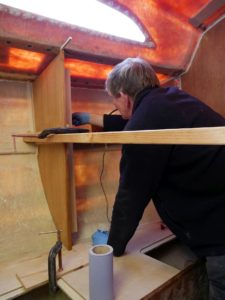 Also got a new piece made for the divider behind the cooker after a carelessly knocked chisel in an increasingly chaotic workshop took a Saturday lump out of the good surface of the one we'd planned to use (it wasn't my day, was it?), and utilised some leftover mixed epoxy on minor repairs to the detached section of battery locker. And decided at some stage over the past week to build a cool box into the space behind the sink, which coincidentally turns out to be labelled 'ice box' in one of the original Impala brochure drawings but nowhere else I'm aware of: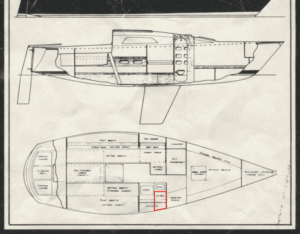 Now I'd got a beat-up old cool box with Fly and somehow (perhaps because of that drawing?) misremembered it fitting there when the available shapes and access spaces just won't take a commercial offering of much more than lunchbox size. So Twig suggested (just like the water tank) building one in to fit, and that's what we're planning to do. While it will extend to the hull sides, it won't be as big as suggested by my red outline because the drawing shows the full width at deck level. And we'll need to get the bottom above the waterline (which, with even minimum-weight boats heavier than designed and typically quoted in reviews, is further above the bunk tops than the Impala plans optimistically suggest) so it can drain to the galley water outlet for easy cleaning afloat, so I've been doing some careful checking from all available evidence there!