Couldn't throw myself at Fly quite as planned this May Day holiday weekend after hurting my shoulder on Thursday night (more likely playing manhunt with S1 at Outward Bound than jumping/sliding down the Allt na h-Uamha — aka Laggan gorge — with them!), but one of the less physical things I've got done is fitting a stay to the chart table lid. A tricky job with its one and only position defined by needing to hold the lid as high as possible without lifting too far and sit far enough from the hinged edge to clear that corner gusset thing when telescoped into itself, but it's turned out OK. Had to plug and redrill the pivot hole after drilling it too low first time even after testing with scrap plywood and a Gorilla Tape hinge, then drill the screw holes in the lid from the outside because there was no way I was getting them accurately marked and drilled from the inside, but it works. You might look and think why that position and that angle, but there's simply no choice when it telescopes rather than folds!
Then, starting to get back on track with less discomfort today, you see the more awkward inner sides of the pilot berth fronts epoxy coated: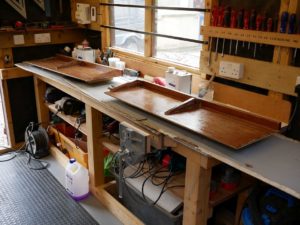 I'd got the pilot berth bases back in last Monday evening with Twig, but have been tweaking the fit by cutting teak filler pieces to cover some visible gaps, so will need to unscrew them once more to trim and glue these in. The port one's needing more obvious treatment at front side and top (yes, I've cut a 'horizontal' piece as well as the vertical wedges you see):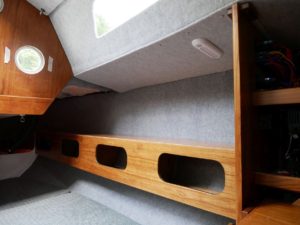 Whereas the gap on the starboard one's only the depth of the 12mm ply front, so I haven't even tried to push my delicate filler wedge right in with the base in place!
We also fitted the new mast base last Monday evening. We got this lined up and holes drilled and tapped perfectly with a line strung along the boat and some measurements, then it settled slightly off as it was tightened down. Both perplexing and annoying (off-centre countersinks in the casting?) when it's probably the thing I'd have liked to be perfect above all others, but I'll just have to get over it when we'd done everything right and it's still within reasonable tolerance: