As explained last week, it's been a while (too long!) since I've posted a 'boat' blog, but here's a quick update based largely on available photos to show how close Fly's got to an expected launch a week tomorrow…
So here's the engine box on 31 May with renewed anti-slip sand on top. For various reasons, I had three goes at this, of which this is the first (subsequently spoiled along with the second!), but the principle is the same, with the sand sprinkled on varnish and then (not yet done here) varnished over: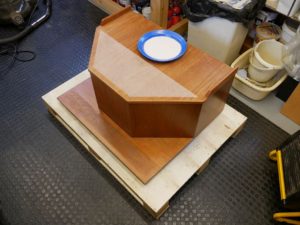 And here's the chart table cushion refitted on 2 June: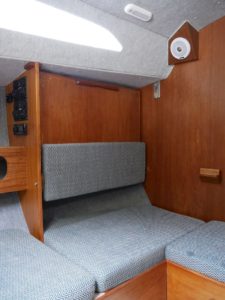 Here you see a selection of renovated brass hinges and bits on 16 June, cleaned with a nylon brush on electric drill and varnished, and some miscellaneous new bits and pieces exactly a month later on 16 July:
Porthole trim rings in, instrument covers back and folding pilot berth fronts (aka settee backs) partially hung (needing the stainless hooks from the previous photo to finish):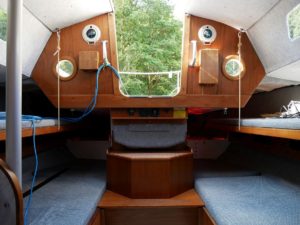 Topsides, coachroof etc. cleaned and T-Cut but not yet waxed (they are now!), boot topping and antifouling done, and top brown stripe restored: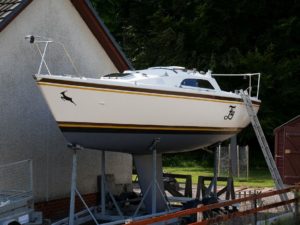 Not yet Fly's actual new cabin sole, but a template to test the changes from the old one (which was overweight, damaged and didn't fit) before cutting into the priceless new striped plywood:
So I tested and retested the fit, revising my annotations more than once (but subsequently still chose to build it differently yet!):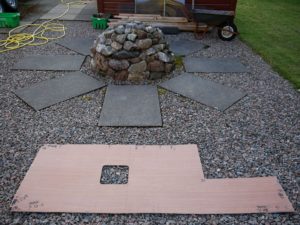 Was I nervous about this sheet of plywood? If you know what it cost, you'll know the answer!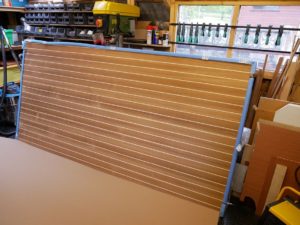 I considered whether to move everything half a pattern to the side and make two cuts to get the stripes away from the edges where they'll show against not-perfectly-straight bunk fronts, but decided finding them fortuitously symmetrical with no further waste of timber was more pragmatic! The piece on the right is the one for the cabin sole: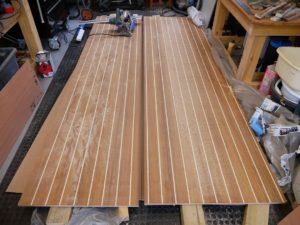 Hoping I know what I'm doing here:
Is it perfect? No. Is it the best I can do? Yes. Is it better than the old one? Yes. Is it good enough? Yes. There are gaps where I've trimmed down from the template, but you've also got to be able to get it in and out, and there are skirtings to cover the two main edges (note that it's not varnished here, but that's currently happening):
The final act of a testing day was making and fitting these battens. The screws were really just to stop the battens sliding about while clamping up (strength's in the epoxy) and didn't go in very far, so I took them back out the next day before epoxy-coating the back and edges: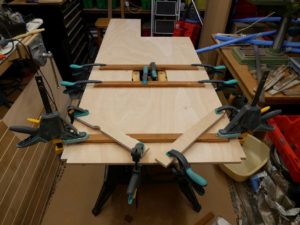 I'm pleased with the teak rings I fitted to the heads door in lieu of the ugly old alloy handles, but did have to re-hang the door on filled and redrilled screwholes to get the fit I wanted:
You can see how the pilot berths work now; front halves double as settee backs and back halves as useful gear racks. The folding parts were built as continuous long sections, but we split them years ago because they're far more practical like this. There are lee cloths somewhere to stop you falling out of pilot berths or main berths at sea, but not a priority to refit those right now:
The front edge of the forecabin Treadmaster needed protecting because I'd already kicked a couple of small chunks out of it which I'd had to stick back. So my first thought was some kind of solid edge trim, but I decided to try layered Gorilla Tape first as a less committing option. It doesn't actually overlap the Treadmaster, but is built up half-width against its edge with a full-width piece over the top:
Because of repairs/modifications over the years (doubled starboard bunk front and inboard installation), the cabin sole didn't have a lot to sit on in places. So I've added some more, screwed and Sikaflexed in place: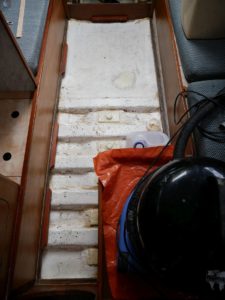 New shaft anode fitted:
And there's lots more not even mentioned here as I continue to work through a diminishing, but by no means empty, list of 'pre-launch' and 'later?' jobs. Some small, less essential, things have inevitably migrated to 'later?' and I've somewhat stoically accepted that the boat will initially be launching with scruffy old washboards instead of shiny new ones, but, in terms of substantive work, she's really nearly there now!