Petestack Fly Photo Archive
With more and more good photos of Fly coming my way, many have had to be moved about the site to make way for newer ones. Hopefully this page will keep some of the best available from thumbnail links even after they've been moved from their original locations.
2001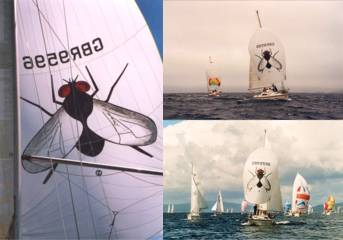 So folks' reactions to Fly's new kite might have ranged from 'wow' to 'yuck', but it certainly had them reaching for their cameras!
Nobody should be surprised, therefore, that my 2001 archive kicks off with this group of three kite shots by Gill Reavley (from a trimmer's perspective), Twig Olsen and Alison Chadwick.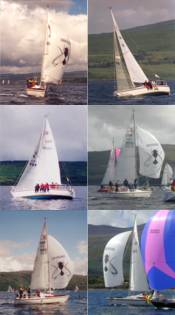 The next group of six comprises three West Highland Week shots by Twig Olsen (left column), a Round Mull shot by Curly Mills (top right) and two more from West Highland Week by Jonathan Perry of Revolver (centre and bottom right). Class 5 rivals Rampart (Hydro) and Northern Comfort (Comfort 30) can also be seen in these last two, which complete the 2001 collection for the time being.
(Some of the photos were taken on the run home from the final race of West Highland Week, which explains why the genoa has been stowed in its bag and the crew are looking less sharp than normal!)
2000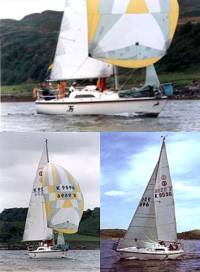 How could I forget what the old Sobstad sails looked like with framed 16" x 11" prints of Duncan Hall's two shots from the Millennium Round Kerrera Race on the final day of West Highland Week currently hanging in my living room? Serious UV degradation to the kite's grey panels certainly influenced my choice of a white kite to replace it after it had to be mended several times that year and finally tore past redemption off Easdale! To complete the 2000 collection, a solitary shot from the Glencoe Regatta feeder by fellow GBC member Phil Slade offers a rare glimpse of the even older Hood main.
Duncan Hall's photos have been used by permission of Hall Marine Images (web link now defunct).
1999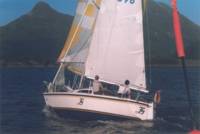 As far as I can remember, my entire collection of 1999 photos showing the boat under sail from someone else's viewpoint consists of three evening shots from Glencoe by Iain Young, of which this is probably the best. Unfortunately, the original was quite dark and it's probably been re-processed too often since it was scanned to look as good as it might!
Feedback to sailing@petestack.com