Don't Play Misty for Me
A single-handed cruise to the Outer Hebrides (incorporating Kilchoan Regatta Report)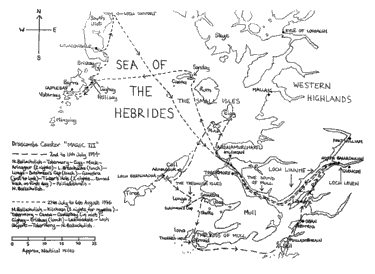 I always knew that it would be difficult to resist the temptation...
Since moving up from my old 'cruising' Dabber to a Coaster at the tail-end of last season I had thought often about sailing to the Outer Hebrides; this was a burning ambition of some years' standing but, until about the middle of July, I had dismissed it in public (and probably even in my own mind) with sensible talk such as 'eventually, but not this year' and 'next year, perhaps'. So two days into my summer holiday I took Magic III off on what seemed at the time to be a reasonably ambitious single-handed cruise round Ardnamurchan Point to the Small Isles and back by the west and south of Mull. The many highlights of this trip included surfing out of Loch Leven on the first day under jib and mizzen at indicated speeds of up to eleven knots (is this a record?) and the always eagerly anticipated return to Coll, where my grandparents had lived and we had spent many of our happiest childhood days. The wild black rabbits and tame puffins of Lunga in the Treshnish Isles were absolutely unforgettable as was, for a timely reminder of the power of the sea, an abandoned attempt to round the Ross of Mull on a day which saw the sinking of one well-found yacht off Staffa and the dismasting of another in conditions which were to become — and I quote from Yachting Life — 'winds of 38/42 knots gusting to 46 knots'. You should also know that Tinker's Hole, to which I returned that lunch-time, is Drascombe territory of the very highest class; the normal entrance (for most yachts) is to the south but you can also get in, as I had done the previous evening, through a maze of shallows and rocky islets to the north.
Back home at Kinlochleven my thoughts started to return to the Outer Isles. The Thompsons, Kilchoan-based ex-Drascombe sailors who I had bumped into at Eigg, had happened to mention that their current Moody 31 was a good boat for getting out there. Another party who I had met on Muck had said quite casually that they were going on to Canna and then 'across to Eriskay'. It all sounded so delightfully normal and so, restless after only a couple of days ashore, I drove down to Oban to buy the Castle Bay to Cape Wrath pilot and appropriate Imray chart. I was able to borrow all of the necessary Admiralty charts, including some for an alternative plan of exploring the east coast of Skye up to Raasay and Rona, from family friends, reminding myself all of the time that I was merely considering crossing the Minch this year.
The week of the intended 'Kilchoan Regatta Cruise' started unpromisingly with several days of fresh to strong SW'ly winds causing me to postpone my departure until the day before the first race, covering the forty-five miles or so up to Kilchoan at one hop and mostly under engine. A phone call to Ken Mayfield had already established that the 'official' cruise was effectively a non-starter and that I would be missing nothing by waiting. My father drove up to join me for the racing, leaving afterwards with our modest collection of silverware (well, alright, we won on both days!) in the car for safety's sake. As usual the regatta was a tremendously enjoyable event although, through no fault of the organisers, disappointing in that only two Drascombe Association 'regulars' turned up to augment the local fleet this year. It has been stressed more than once in these pages that it is worth making a considerable effort to get there; this is a view which, although almost a 'local' boat, I must endorse wholeheartedly.
This year's regatta was sailed in fairly fresh, testing conditions so it was really no surprise that the first two places on both days were taken by Coasters. The Drascombe class was contested by about seven or eight boats, with the solitary Dabber (Ken Mayfield's Bantam) having to reef on the Thursday. In that race the normal reaching leg became a second full-blooded beat but the shorter course on the Friday was, by way of contrast, virtually two reaches followed by a run. I believe that Magic III was, however, the only Drascombe to get round this one twice without having to tack for the second mark. A combination of this close-windedness, basic boat-speed and some help from her expert tactician (I have to single out my crew because the usual convention of self-modesty prevents me from praising the helmsman!) was enough to see her home by a considerable margin in both races, although mention should also be made of local owner Malcolm MacMillan's two good second places in Dobhran. One interesting observation, as far as Drascombes are concerned, is that our Coaster was actually heeling less than any of the keelboats which we were pursuing, even when sailing hard to windward.
The forecast promised still more wind and unsettled weather for the weekend and, after three nights of bouncing about at Kilchoan, I was happy enough to make for the shelter of Tobermory on the Saturday evening. At this stage my new pilot book and chart looked likely to remain unused until next year although I had had a good chat to Nigel and Sally Orr that same afternoon about, amongst other things, past exploits involving Barra and their Longboat Cruiser Tanaquil. Then, just when I had almost resigned myself to sitting out the bad weather in Tobermory before sloping off home down the Sound of Mull, the conditions relented considerably and I was able to sail for Canna on the morning of Sunday 31st July.
This, the most northerly of the Small Isles, proved to be a most fascinating place. The harbour is well-sheltered, almost land-locked and you can anchor a long way inside any keelboat on a clean, sandy bottom. You can also walk almost right round it, from the lovely little round-towered Church of Scotland, past the farm and the telephone box, across the footbridge between Canna and Sanday and back along the south side to be almost as close to your boat as you were when you started, except that you will have covered the best part of two miles on foot by this time and will have to retrace all of your steps unless you have left someone to take you off in your dinghy. Two lasting, and contrasting, impressions of the place were formed by the full offering plate trustingly left out in the middle of the open Kirk and the multitude of spray-painted slogans daubed all over the cliff above the pier.
Crossing the Sea of the Hebrides on Monday 1st August turned out to be a fairly serious exercise in navigation as, after a night of very heavy rain, the day dawned (if that is the word!) with a thick, soupy mist that never lifted until late evening, by which time I was thankfully, but happily, tied up to an HIE mooring at Castlebay. A tantalising glimpse of blue humps on the horizon as I had tacked between Canna and Rum on the previous afternoon was indeed the last sight I was to have of the Outer Isles for more than a whole day. For five long hours I sailed out of sight of land with just the occasional fishing boat, always disconcertingly heard before seen, to look at. The course which I chose to steer alternated from time to time between 270º and 260º (compass), firstly close-hauled on port tack in a light SW'ly and then, oddly, when the wind veered as it was forecast to do, on starboard in what had now become a very usable NW'ly. Plotting the estimated position every hour was a bit of a chore, especially as it was raining and I had to take the chart out of its plastic case to write on it. This is the kind of situation when single-handing in a small boat starts to become really quite trying and all sorts of suggestions to make things easier begin to spring to mind, such as... get an Autohelm, try some kind of marker pen on the chart case or even (hope springs eternal!) persuade someone to crew for you instead of merely enthusing that it all sounds 'pretty whacky'! Eventually, however, when my string of EPs reached to within about a mile of Hellisay and Gighay and I knew that, unless I wanted to be joining the old emigrant trail from the Outer Hebrides to Canada, I must see land soon, something loomed up to starboard — yes, it was Eriskay — then Hellisay and Gighay ahead and I was able to turn south for a jib-and-mizzen reach in increasingly wet, windy and chilly conditions outside of all dangers and into Castle Bay. And, in case you want to know why I chose to make my landfall so far to the north, I offer three simple points by way of explanation... firstly, that the course which I had chosen was one that I could actually make to windward, secondly, that I had to be sure of knowing which way to turn in case of difficulty in identifying the unfamiliar landfall in that awful mist, and, thirdly, that the final approach to Castle Bay falls just off the bottom of Chart C66 and it was much easier to plot a course for the passage that was wholly within the area of the one chart. That evening I swore that I was not leaving Barra until I could see where I was going!
The following day I took the chance to stock up on petrol, food, water and cash — Castlebay has excellent facilities — and enjoyed a great little walk over the island's main hill of Heaval (1260 ft), the ascent culminating with a short, but entertaining, scramble up the SE ridge above the statue of 'Our Lady, Star of the Sea'. This and the Sgurr of Eigg (which I had climbed on my previous trip) are two of the finest small mountains — they are both of a similar modest height — that you are likely to come across anywhere and, although the visibility was not quite perfect when I climbed either of them, the views from them both are potentially sensational. Rather less of a thrill was the mystery of my deflating rubber dinghy and its live crab cargo, the discovery of which was followed by a discussion with a group of small boys on holiday — in all probability the culprits — who offered me a lift back to my boat in another yacht's tender! Later on, with the dinghy restored to health (and the crab to its natural element), I motored off in calm, bright conditions and, taking an inshore route this time courtesy of Admiralty Charts 2769 and 2770, returned to the two little islands of Hellisay and Gighay where I had made my landfall. The tiny, sheltered sound between them, studded with rocks, is the sort of place where you might very well hesitate to take a big keelboat but, as for a Drascombe, the enthusiastic notes which I scribbled at the time will tell you all that you need to know:
'This place is as wild as the Treshnish Islands — seals, sheep and birds. Seals calling (?) — a strange and eerie sound. Some are very curious about my boat... Seals swimming and diving close to the boat until late at night... This could be THE anchorage of all time!'
Like everywhere else that I stopped in the Outer Isles, the bottom was mud; the holding is better than some sources would lead you to believe (I certainly had no problems with my 12lb Danforth) but trying to keep your foredeck clean is a waste of time. Gighay was also the only anchorage which I did not have to share with any other boats, and this not surprisingly added to its already very considerable charm.
Ever since my arrival at Barra I had kept finding myself subconsciously going over the tune of Bàta Sheumais, which is a Gaelic children's song that I had learnt along with the pupils of Glencoe Primary School a year or two ago. The gist of the words — 'Bàta Sheumais a' seòladh gu Barraigh' — is that Seumas (or James) is sailing to Barra in his boat, so you can see why the thing had come to mind. It was now to take an increasing hold over me as I was unable to rid myself of the tune — fortunately a cheery little number — for the rest of the cruise. I was careful, however, to steer clear of the third verse, in which Seumas' boat ends up sinking ('chaidh fodha') off Rona!
At Gighay I could still hear the seals splashing around when I woke up in the morning (Wednesday 3rd August); 'don't they ever sleep?', I queried in my log. A walk ashore (Bàta Sheumais reverberating around my head) was followed by a cautious exit from the NW end of the little sound and, once outside, grave doubts about the accuracy of the forecast (NE 3–4) began to mount up as I motored into a sea that was disappointingly steep, choppy and really not much fun at all. I was happy enough to put into Acairseid Mhòr at Eriskay to mull things over, but a brisk walk over to the village in the rain and return by Coilleag a' Phrionssa ('Bonnie Prince Charlie's Beach') in the sun, followed by lunch aboard and the 13.55 shipping forecast, all conspired to convince me that it was still 'worth a look'. The prevailing wind in these parts is SW'ly so a northward progression would normally have been a sound-enough plan. Once out past Rubha Melvick (the SE point of South Uist), however, conditions started to take a very nasty turn indeed, with a healthy force six and an ugly, breaking sea. One gigantic wave broke right over the top of the boat — foredeck, cabin top, sprayhood, me, everything! — and the rubber dinghy, which I don't normally tow on passage (and have sworn never to tow again), twice flipped clean upside-down causing an incredible amount of drag in the water until I was able to get it sorted out. You may take it from me that I was very glad indeed to dive into the shelter of Loch Boisdale as the wind howled, the rain increased and the visibility deteriorated. Later on, 'local knowledge' confirmed some of my suspicions about the conditions... that the NE'ly does tend to be more severe than you might expect on this coast, for instance, and that it had probably been 'blowing a good thirty knots out there'.
Thursday dawned fine and bright with, believe it or not, a truthful forecast of light SE'lys. This was just what I needed to make up for the previous day and I was able to enjoy a fine, sunny reach (which later became a run) up to Loch Skipport. With its two delightfully named anchorages — the Wizard Pool and the Little Kettle Pool — nestling at the foot of Hecla (1988 ft), this was the place almost above all others in the Outer Hebrides that I had wanted to visit ever since reading about it in Jim Andrews' Twelve Ships A-Sailing (quite one of the best sailing books that I have read, evocatively written and mostly about family cruising in British waters, yet you can now pick it up cheaply in remaindered bookstores). After the motoring of the two previous days, it was a real pleasure to be able to beat right into the Wizard Pool — possibly even tack-for-tack with the Andrews family twenty-three years before — and anchor under sail for a change. My desire to go exploring ashore was somewhat tempered by the attentions of myriad midges and flies but, even though these soon put paid to any serious thought of an evening ascent of Hecla, I was certainly not disappointed in this beautiful place. The icing on the cake was that both the shipping forecast and Stornoway Coastguard promised a fair and steady breeze with which to start the long journey home.
Friday's sail will probably remain forever as one of the most memorable of my life. With a rock-steady force four W'ly that I just couldn't afford to waste, I was able to make a passage of fully sixty sea miles all the way back to Tobermory, under sail and in just twelve hours. Here was the Drascombe hull in absolutely her true element, sustaining incredible speeds on the reach for hours on end, carrying full sail but never overpowered, and giving to the lucky skipper all of that 'thrilling joy' which Mr Vandersmissen describes in his book. I was also able to enjoy the fine views back to the South Uist hills for thirty miles or so that I had been denied on the outward passage, and the navigation was never more complicated than the plotting of a series of good fixes with some occasional, consequent but always minor, course adjustments. This truly great day's sailing was followed on Saturday 6th August by a gentle spinnaker run down the Sound of Mull in a pleasant, but light, NW'ly and, by the time the wind eventually petered out into an even lighter NE'ly, I was not ashamed to use the engine to get me back up Loch Linnhe and home that same evening. The sun came out to shine very brightly indeed and the steady drone of the Mariner outboard proved to be a great background (you can even tune the pitch by adjusting the throttle!) over which to sing Bàta Sheumais, The Dark Island, the Mingulay Boat Song and the Eriskay Love Lilt, as well as to 'diddle' that great pipe hornpipe Crossing the Minch.
My first few days back at home passed in a daze as the whole experience, which quickly took on all the characteristics of a glorious dream, was relived again and again. To any readers who may be tempted to start planning a similar cruise there is really very little advice to pass on that can't be had from other sources, but some of it does bear repetition. A crew would be helpful to steer while you do the chartwork, to read you the sailing directions as you work your way up an unfamiliar coast in lashing rain, or simply to share the burden of keeping watch for hours on end. You must monitor the weather constantly, and treat the forecasts with caution, because the conditions can change very rapidly indeed. You must have complete confidence in your choice of ground tackle (be prepared for mud, rocks and weed) and last, but by no means least, you must carry the appropriate large-scale charts because coastal navigation in the Outer Hebrides frequently involves the evasion of offlying dangers (which may be hazardous even to a small boat such as a Drascombe) and these remote, rocky coasts are no place at all to play 'Russian roulette' with your boat! And, if any of this sounds at all offputting, then I'm truly sorry for putting you off, because the rewards for that little bit of adventure are very high indeed.
Feedback to sailing@petestack.com