While I could tell you I enjoyed the good trail through the flat-floored, almost 'secret', hanging valley of Coire an t-Suidhe so much I had to run it three times (once northwards and twice southwards), I'd be lying when the ugly truth behind that third visit to such a delightful place is that I simply made one of the most inexplicably bad navigational mistakes of my life…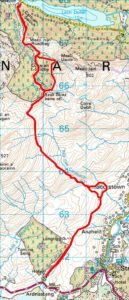 Tonight's run over the historic coffin road/miners' path from near Strontian to Polloch started well enough bar a much smaller mistake when I missed the turn at Scotstown. But it was coming back that I really surpassed myself, taking a short-lived 'path' the wrong way after rejecting the inauspicious-looking alternative I'd descended barely three-quarters of an hour earlier as 'wrong', compounding the error by refusing to reverse 100m or so and trying to outflank the forest instead, digging myself an even deeper hole by diving into said forest (fine if you like wading through mud with twigs poking out your eyes!) when the flanking manoeuvre led to a steep burn in a non-existent gap rather than the clear space suggested by the map, and all the time failing to notice I'd become disorientated and was heading completely in the wrong direction! So three thoughts on popping out into the coire… 1. thank goodness I'm out of that forest, 2. this looks familiar and 3. damn, what an eejit!
Apart from that it was a good run and I enjoyed most of it. But good thing I'm strong enough to take what I get myself into!