It's a logical circuit I've had my eye on for years but somehow (despite having run just about everything else you can run in this area) never got round to doing as a whole. So this afternoon I ran round the base of the Buachaille Etive Beag by the Lairig Eilde and Lairig Gartain, and have to say that, if it was all as delightfully runnable as the Lairig Eilde, it might just be the best mid-level off-road circuit round here. But the Lairig Gartain, while not looking that much longer on the ground, is quite simply bigger, rougher, wetter and slower, and comparatively marred by a less continuous path that's eminently losable through some quite awkward ground at the Etive end. So, while still well worth doing (and how could it not be in such spectacular surroundings?), it's not the 'best of the best' it promised to be for the first three miles, and Dalness and back by the Lairig Eilde should be a more pleasant course to pick up the pace and maintain some rhythm for those more carefree days.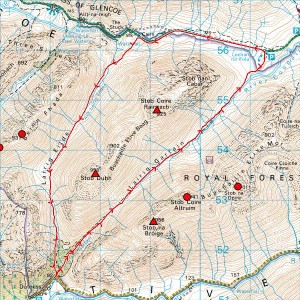 Edit (22 March 2015): having seen Susie Allison pick this up (as 'The Two Lairigs') for Scottish Trail Running and done some more Lairig Gartains myself to go with yet more Lairig Eildes, it seems that my initial judgement of the Lairig Gartain was harsh and the Two Lairigs really does stand up as the best run of its type (mid-level, through-hills trail) in the whole area. But might also defend myself by noting that Susie's obvious refinement of skirting the deer fence rather than descending to Dalness takes out the toughest ground of the Glen Etive end (still a few awkward spots left on the reascent of the Lairig Gartain above that) and the path north-east back to Glen Coe is now both continuous and better/drier right down to the Glen where it wasn't before. The old road back through Glen Coe (another 'Susie' tweak I'd missed) also makes a more carefree alternative to the A82 verge, though possibly slower through being quite soft and wet over the first mile.
Edit (10 April and 23 April 2015): take the higher path traversing from a start up the south ridge of Stob Dubh rather than descending to the one by the Allt Gartain and you remove the last of the awkward ground for a much more pleasant and runnable ascent of the Lairig Gartain. Simple as that!